21st November 2016 Content supplied by: Hardy Diagnostics
Next Generation Clean Room Air Samplers Now Available from Hardy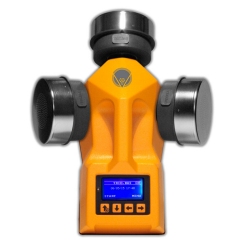 Hardy Diagnostics have announced its partnership with Orum International, based in Milan, Italy. Orum International's President is Roberto Ligugnana, who developed the famed SAS air sampler in the early 1980's. Now, almost 35 years later, Roberto and his brother, Sandro, have once again revolutionized air sampling with their new company and a state-of-the-art line of samplers: Trio Bas.
The Trio Bas family of air samplers is designed to address multiple concerns and applications within the clean room setting. Orum has evolved air sampling by creating more ergonomic, light weight, durable, efficient, and convenient instruments, all while being priced comparably with older air sampling technologies.
Trio Bas's flag ship instrument, the Trio (shown), exemplifies Orum's desire to challenge industry standards by incorporating a third sampling head to the unit, allowing for multiple air sampling configurations. Three heads allow a technician to sample air at the beginning, middle, and end of a run. Despite adding a third sampling head, the first such unit of its kind, Trio weighs significantly less than industry standard air samplers and incorporates a more balanced and ergonomic design, alleviating repeated stress related injury.
With Bluetooth incorporation, one button operation, and remote start capabilities, Orum has taken every step to develop the next generation of air sampling technology.
Features and Benefits of the Orum Trio Bas Family of Microbial Air Samplers
Total counts, yeast and molds can be monitored simultaneously because each sampling head can contain different culture media.
Reduced risk of operator contamination because the 3 sampler chambers can be filled with culture plates at once.
Reduced sampling time as each head can sample 330 litres, 1000 litres of air can be sampled in less than 3 minutes.
Improved flexibility of sampling times because each sampling point can be programmed separately it's possible to program sampling times at the beginning, during and at the end of each shift.
Improved significance of results because it can be the average of three plates and from three different directions.
Tags:
Date Published: 21st November 2016
Source article link: View
Related news