1st October 2012 Content supplied by:
APC SmartTouch and ErgoTouch Pro 2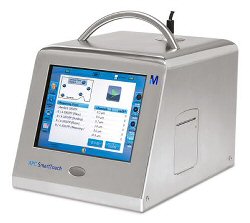 Merck Millipore's portable APC SmartTouch is a complete, airborne particle counter system designed for dual flow rates: one for cleanroom filter testing (ISO 14644-1) and the other for monitoring (FDA/EUGMP). The APC SmartTouch eliminates the need to invest in multiple instruments, and reduces costs associated with routine calibration events. Equipped with two high-capacity batteries, the instrument is designed for continuous sampling. A visual representation of sampling locations, including designated sampling points, minimizes risk of human errors. The instrument's large color touch screen with commonly used icons facilitates easy and intuitive operability. All required actions start from the main screen, thus there is no need to access submenus.
The handheld APC ErgoTouch Pro 2 has all the features and performance capabilities of a portable airborne particle counter built into its small, state-of-the-art design. Its convenient size, low weight and intuitive handling make it an ideal low-investment choice for validation according to ISO 7, 8 and GMP Gr. C, D standards. With a flow rate of 2.83 L/min and six channels, it meets JIS standards and has a large color touch screen for intuitive, easy handling.
Both instruments are easy to clean and disinfect, and come with many accessories including a compressed gas adaptor for high pressures. For more information about APC Smart Touch For more information about APC Ergo Touch Pro
Date Published: 1st October 2012
Related news