1st July 2014 Content supplied by: Merck Millipore
Microbiological Monitoring of Air and Compressed Gases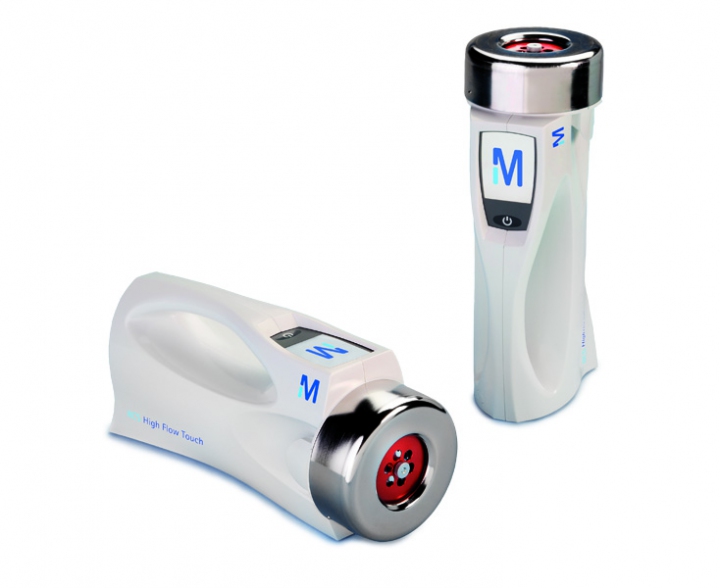 Presented at the Merck Millipore ASM booth this year were a range of microbial air sampling units able to meet most air sampling requirements including the option of testing of compressed gases in pharmaceutical and food production environments.
MAS-100 Series for Accurate Active Air Monitoring Merck Millipore's MAS-100 series are high precision air samplers based on the impaction principle using a standard 90mm Petri dish or 60mm contact plate. An integrated mass flow sensor assures a constant flow rate of 100 litres/min. Continuous regulation of flow rate during sampling automatically adjusts for differences in fill volume of Petri Dishes and other variables. All MAS-100 air samplers comply with the guidelines of the ISO 14698 part 1 and part 2.
The MAS-100 NT® is intended for microbiological monitoring of air in cleanrooms and aseptic environments, an easy-to-handle air sampler system that fully complies with EN ISO 14698, along with the MAS-100 NT® Ex version available for use in explosion risk areas.
Ready calibrated for compressed air, nitrogen, oxygen, argon and carbon dioxide the MAS-100 CG Ex® collects samples at the same pressure as the gas supply, operating between 1.5 bar to 10 bar. The MAS-100 CG Ex® system samples at two constant flow rates, 100 L/min and 50 L/min for low flow applications. Compressed gas is directed through a perforated plate onto the 90 mm standard Petri dish. After sampling the required volume of gas, a gradual decompression occurs automatically, as a sudden pressure change may damage any microbial cells present. The MAS-100 CG Ex is the only air sampler of its kind approved for use in Zone 2 explosion hazard areas
The MAS 100 Iso NT® for aseptic production areas and isolators permits installation of sampling heads for standard Petri dishes at critical control points while all electric and moving parts remain outside the critical zone. An internal pump with flow control allows automatic decontamination of the sample head and aspiration tube. The instrument can be adapted for various types of environments.
Flexible Ambient Air Monitoring with RCS® Microbial Air Sampling Systems Merck Millipore's RCS® High Flow Touch is a complete, portable and fully compliant (ISO 14698-1) system consisting of instrument and ready-to-use agar strips, for fast and easy monitoring of ambient air and compressed gases in controlled areas. Based on centrifugal sampling with a flow rate of 100L/min, the instrument's touchscreen makes it easy to set time delays, sample volume and interval sampling. Whilst lightweight it has a good battery capacity allowing more than 35 x 1000 L measurements with one full charging cycle.  The HYCON® Agar strips come ready-to-use in a range of different media and can be stored at room temperature - double packed, gamma irradiated is also an option for bringing into critical areas.
The validated RCS® Isolator is a two-component system designed for confined areas like isolators and laminar flow areas. A cable connects the sampling head to the operating unit so that the sampler can be operated outside the laminar flow or isolator. The design of the sampling unit allows the air ducting to be led outside the critical area.
Easily connecting to either the RCS® High Flow Touch or the RCS® Isolator is the autoclavable RCS Compressed Gas Adapter to enable monitoring of compressed gasses with a pressure range from 0.1 to 7 bar.
The RCS® Plus Ex air sampler is a fully validated, explosion-proof model based on RCS® technology. It is designed as an intrinsically safe instrument according to the ignition protection class "ib" (EN 60079).
Tags:
Date Published: 1st July 2014
Source article link: View
Related news