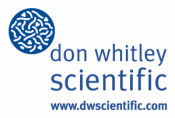 Don Whitley Scientific
Don Whitley Scientific Limited develops, manufactures and sells instrumentation and associated products for a range of microbiological applications.
Address Bingley
United Kingdom
Website
Email
Telephone
+[44] 1274 595728
In addition, contract services are available and performed in GLP-compliant laboratories. Selling to both private and public sectors, products are supported globally through a carefully chosen distributor network. Customers include quality assurance personnel, food producers, public sector microbiologists, clinical microbiologists and research and development specialists.
Microbiology Product Areas
Clinical

NOTE: The products listed in this section may not be approved for clinical diagnostic use in your jurisdiction. You must assume these products are unregulated and therefore cannot be used for routine testing and reporting of results unless otherwise stated.
Contract Service Laboratory
Show all suppliers