25th August 2014 Content supplied by: Don Whitley
Unique Internal HEPA Filtration System for Anaerobic Workstation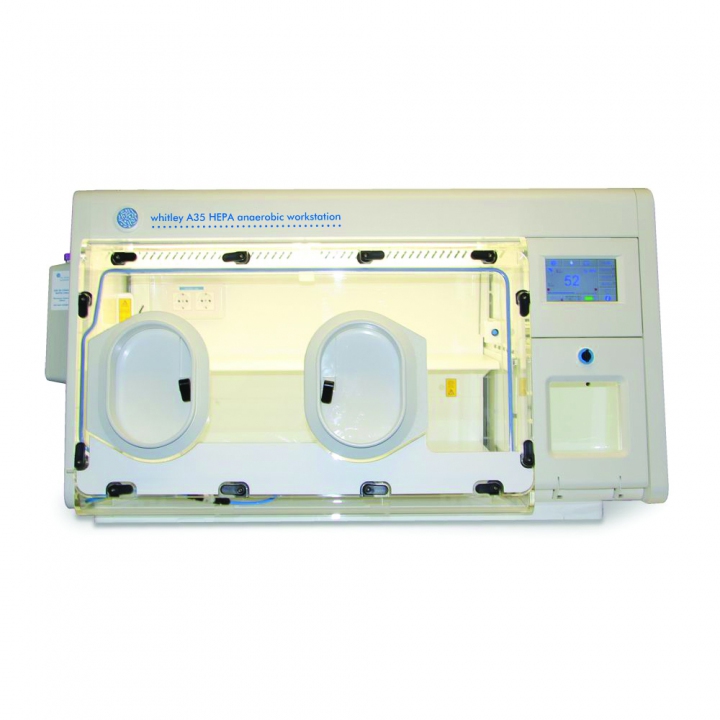 Now available from Don Whitley Scientific (DWS) is the Whitley A35 HEPA Workstation. This is an anaerobic workstation with a unique internal HEPA filtration system. Like other anaerobic chambers from DWS, the A35 HEPA provides conditions for the processing, incubation and examination of samples without exposure to atmospheric oxygen. It provides the ability to manipulate samples in a sustainable environment where parameters can be altered to create the required conditions.
As well as being able to accommodate up to 600 x 90mm Petri dishes, this workstation is fitted with the unique Whitley Internal HEPA Filtration System. The way this system works is that all the atmosphere passes through the filter every four seconds, which ensures the chamber environment is cleaned quickly. Placing the filters inside the workstation prevents the filter becoming saturated with moisture and rendered ineffective. Levels of atmospheric cleanliness inside the workstation exceeds the requirements of ISO 14644 Class 3. Proof of atmospheric cleanliness can be provided.
Paul Walton, Managing Director at DWS, discussed why the company had decided to create their own HEPA filtration system:
"We tested some of the systems that were already being used in laboratories and discovered a few issues that concerned us, particularly the issue with filters being rendered ineffective through saturation because of their location outside the workstation. For this reason, we located DWS HEPA filters inside the workstation, which prevents unnecessary condensation.
We also decided not to use off-the-shelf filters but to work with one of the world's leading filter manufacturers to develop a filter specifically tailored to suit this workstation. The internal atmosphere is circulated continuously - contributing to even temperature distribution and ensuring any internal particulates will be in motion before capture by the filter."
The A35 HEPA is fitted with patented oval, sleeved ports and a removable front to facilitate thorough cleaning, easy replacement of the HEPA filter, and the transfer of bulk samples and larger pieces of equipment for use in the workstation.
Please note : Any products described on this page are for Research Use Only and not intended for clinical diagnostic procedures unless otherwise stated.
Date Published: 25th August 2014
Source article link: View
Related news