19th May 2015 Content supplied by: Don Whitley Scientific
Taller, Wider, Deeper – the Largest Whitley Hypoxystation Yet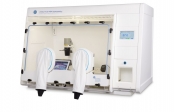 Don Whitley Scientific have launched the Whitley H135 Hypoxystation, the tallest, widest, deepest workstation in the Whitley Range. This workstation provides precise environmental control whilst leaving plenty of room to work, incubate and conduct analysis.
The H135 has a usable internal volume of over 550 litres and can accommodate a variety of items of equipment such as live cell imaging devices, microscopes, plate readers, etc. The generous internal height facilitates easy pipetting. All cell manipulations can be performed without removing them from your required hypoxic conditions. The entire chamber is a working and incubation space.
Steve Robertson, Sales Director at Don Whitley Scientific, explained: "More and more of our customers want to house equipment inside a workstation where they can manipulate cultures in hypoxic conditions. The H135 is therefore a very important addition to the Whitley range. It will allow scientists to perform a greater variety of experiments with their equipment housed inside the incubation chamber."
This workstation, the latest in a long line of well-regarded modified atmosphere workstations from Don Whitley Scientific, allows users to have precise control of O2, CO2 and N2. It comes complete with a removable front (fitted with two patented oval ports) to facilitate the transfer of large items of equipment for use inside the chamber. The full colour touch screen is Ethernet-enabled for remote access to enable users to log into the workstation when they are away from the lab.
The 12 litre airlock, with a cycle time of just 60 seconds, accommodates up to 44 × 96 well plates or 84 × T25 tissue culture flasks plus numerous other flasks, pipettes and laboratory consumables.
The H135 can be attached (via the Whitley Transfer Tunnel) to a Whitley i2 Instrument Workstation for work with a Seahorse XF Analyzer to permit simultaneous, real-time analysis of mitochondrial respiration and glycolysis in mammalian cells under precisely controlled hypoxic conditions. A HEPA filtered H135 is also available.
Click here for more information on the Whitley H135 Hypoxystation
Please note : Any products described on this page are for Research Use Only and not intended for clinical diagnostic procedures unless otherwise stated.
Date Published: 19th May 2015
Source article link: View