Whitley A25 Anaerobic Workstation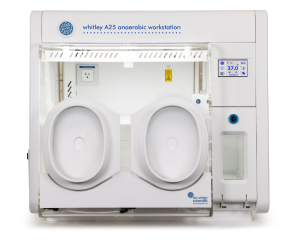 Principle: Gases from cylinders create anaerobic/microaerobic environment
Automation: Yes
Suitability: Labs needing anaerobic and/or microaerobic incubation conditions
Capital equipment required: Yes
Description:
The Whitley A25 Workstation might be small, but it has the same precise control of parameters as our larger workstations, ensuring the very best anaerobic conditions are maintained. It has a capacity of 300 Petri dishes while still leaving more than adequate space to process samples in a strictly controlled anaerobic environment. Unlike with anaerobic jars, you can check your plates regularly and perform tasks inside the workstation without risk to your samples.
Key Points:
Built-in rapid airlock (can accommodate 20 x 90mm Petri dishes or 3 x 500 ml Duran bottles)
Touchscreen to control and operate the workstation and display parameters
Automatic early warnings regarding anaerobic atmosphere and catalyst function
Compact footprint
Ethernet-enabled for remote access to touchscreen
Option of instant access ports or oval, sleeved access ports
Please note : Any products described on this page are for Research Use Only and not intended for clinical diagnostic procedures unless otherwise stated.
Areas:
Clinical

Food & Beverage

Pharmaceutical