Whitley A35 Anaerobic Workstation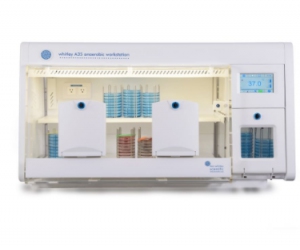 Manufacturer: Don Whitley Scientific
Principle: Gases from cylinders create anaerobic/microaerophilic environment
Automation: YES
Suitability: High throughput labs needing anaerobic and microaerophilic incubation conditions
Capital equipment required: YES
Description:
The Whitley A35 provides excellent conditions for the processing, incubation and examination of samples without exposure to atmospheric oxygen. This workstation provides the ability to manipulate samples in a sustainable environment where parameters can be altered to create the required conditions. The standard A35 features two oval, sleeved ports on a fixed front. This workstation can also be specified with our unique instant access porthole system that allows entry to the chamber in seconds and needs neither gloves nor sleeves.
Key Points:
Accommodates up to 600 x 90mm Petri dishes.
Available with a removable front to facilitate thorough cleaning and the transfer of bulk samples and larger pieces of equipment for use in the workstation.
The built-in rapid airlock ensures samples can be transferred into the workstation atmosphere as soon as possible.
A colour, touch-screen control panel for ease of use and for visual display of parameters such as temperature, humidity, and airlock cycle status.
Ethernet-enabled for remote access to touchscreen.
Includes an automatic commissioning cycle to save time and resources.
Options include an integrated Anaerobic Conditions Monitor with data download facility.