14th June 2018 Content supplied by: Don Whitley Scientific
How to Choose an Anaerobic Workstation
In this exclusive interview with rapidmicrobiology.com, Dr. Andrew Pridmore, Head of Microbiology at Don Whitley Scientific, discusses the benefits of using an atmospheric workstation over traditional gas jars, what to look for when choosing a system and how the new Whitley A135 HEPA can deliver efficient, cost effective anaerobic incubation conditions for routine and research laboratories.
What are the benefits of using a modified atmosphere workstation over gas jars? Anaerobic jars can be prone to leaks and, therefore, may not always provide strictly anaerobic conditions. They also require a large volume of incubator space and become expensive to operate in laboratories with a high anaerobic workload. Most importantly, culture plates in anaerobic jars cannot be inspected during incubation; anaerobic conditions must be interrupted to read the plates. This results in a loss of bacterial viability if plates need to be reincubated or when subcultures need to be made for further investigation.
In comparison with jars, anaerobic workstations offer more precise and reliable atmospheric control, more stringent anaerobic conditions and consistent low running costs. Perhaps their greatest advantage is that culture plates can be inspected at any time without disturbing the incubation conditions. In clinical laboratories, this facility has been proven to increase the isolation rate of anaerobic pathogens and also provides the earliest possible indication of their presence in a patient's sample.
What key factors should a lab consider when choosing the right workstation for their lab? One of the first considerations is usually what size of workstation is appropriate for a laboratory's requirements. In the case of Whitley Workstations, a range of capacities is available from 250 to 1400 petri dishes. However, it is not just size but also layout and useable space that makes a controlled atmosphere workstation truly efficient. At DWS, we believe that combining the working and incubation area (so that the whole interior is at incubation temperature) is the best way to maximize useful capacity.
Also high on the list of desirable features is rapid entry to and egress from the interior – both for operators and for samples or culture plates. A workstation with convenient rapid access encourages the transfer of plates to anaerobic conditions immediately after inoculation; this reduces the degree of oxygen exposure experienced by plates and this maximizes recovery of fastidious anaerobes. Better still, samples can be transferred into the workstation and plates inoculated within the anaerobic environment.
To ensure optimal results and aid compliance with laboratory quality standards such as ISO 17025, it is essential that anaerobic incubation conditions can be verified, for example by use of appropriate biological or chemical indicators. Modern anaerobic workstations can automate this process by continuously recording critical environmental parameters such as oxygen concentration, temperature and humidity in real time. In Whitley Workstations, the activity of the palladium catalyst responsible for removing trace levels of oxygen can also be regularly checked and recorded.
In the DWS range, what functions can be accessed remotely? The latest Whitley workstations are controlled via a touch screen interface. This provides various "intelligent" functions and includes a network connection as standard. Any parameter that is controlled by the touchscreen can also be accessed remotely. These include graphical records of oxygen concentration, temperature, humidity, gas pressures and catalyst activity, each of which can be monitored remotely via a networked computing device.
DWS have recently introduced a new model – the Whitley A135 HEPA, what new features does this model offer? The Whitley A135 HEPA is a tall, wide, deep anaerobic workstation fitted with the unique Whitley Internal HEPA Filtration System. It provides excellent conditions for the processing, incubation and examination of samples without exposure to atmospheric oxygen. With a usable internal volume of 560 litres, a variety of equipment can be accommodated within the chamber. As well as providing ideal conditions for anaerobic studies, this workstation operates from two gas supplies for the most cost-effective running conditions.
• The built-in rapid airlock ensures samples can be transferred into the workstation atmosphere as soon as possible (takes only 60 seconds)
• Fitted with the unique Whitley Internal HEPA Filtration System. All the atmosphere passes through the filter hundreds of times an hour, which ensures the chamber environment is cleaned quickly.
• DWS filters are located inside the workstation, which prevents the filter becoming saturated with moisture and rendered ineffective.
• Levels of atmospheric cleanliness inside the workstation exceed the requirements of ISO 14644 Class 3. Proof of atmospheric cleanliness can be provided on request.
• Fitted with a removable front to facilitate thorough cleaning, easy replacement of the HEPA filter, and the transfer of bulk samples and larger pieces of equipment for use in the workstation.
• The internal atmosphere is circulated continuously - contributing to even temperature distribution and ensuring internal particulate will be in motion before capture by the filter.
• Fully integrated gas control avoids bulky add-on systems - reduces the need for additional bench space.
• A colour, touch-screen control panel for ease of use and for visual display of parameters such as temperature, humidity, and airlock cycle status.
• Includes an automatic commissioning cycle to save you time and resources.
• Options include an integrated Anaerobic Conditions Monitor with data download facility.
DWS have many years' experience with anaerobic workstations – what are the most common applications? The main application for anaerobic workstations is routine clinical microbiology (hospital labs) but we have customers using them in a wide variety of work conducted by universities, including dental, veterinary, gut modelling research, preparation of faecal transplant material and the determination of the efficiency of cleaning agents. We even have a customer who uses an anaerobic workstation for soil research and a commercial enterprise in the oil industry researching bacteria that damage pipelines.
Click here for more information on the Whitley A135 HEPA Workstation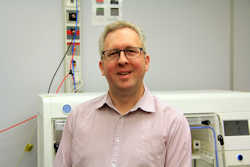 Dr Andrew Pridmore is Head of Microbiology at Don Whitley Scientific.
Dr Pridmore has many years' experience of running the GLP-compliant, contract microbiology laboratories at DWS where Whitley Workstations are routinely used.
Please note : Any products described on this page are for Research Use Only and not intended for clinical diagnostic procedures unless otherwise stated.
Tags:
Date Published: 14th June 2018
Source article link: View