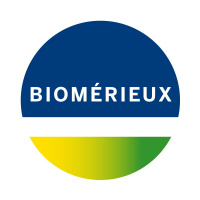 bioMérieux (Food Safety and Quality)
Always at our customers' side to deliver smarter, more dynamic risk assessment in food safety and quality control, moving from test results to actionable insights, to help them ultimately deliver consumer-safe products of the highest quality. Our range of solutions is based on rigorous science, technological expertise, data science and a spirit of innovation.
Address Marcy L'Etoile
France
Website
Email
Telephone
+[33] 4 78 87 20 00
Whilst adapting to consumers' new food experience, the food industry is also undergoing major changes that are challenging the way our customers need to approach food safety and quality.  Our commitment remains to be your trusted partner in this new era, helping to feed the world with safe, high-quality, sustainable food.
We support our customers throughout the production value chain, providing:
Smarter, more dynamic risk assessment  
Moving from test results to actionable information  
Ultimately, we help you provide consumers with safe products of the highest quality.
What has set us apart as a trusted reference for worldwide leaders in the Food Safety sector for over 60 years?
Our passionate team members, who are present in more than 100 countries
Our unrivaled investment in innovation
Our rigorous science based on technology expertise, data science and an innovative spirit.
Some of the solutions provided by bioMérieux include solutions for:
Spoilers and Quality Indicators Tests: D-COUNT®, TEMPO®, GENE-UP®
Genomics and Bio-Informatic: GENE-UP TYPER®, ROOT CAUSE & RISK ANTICIPATION, XPRO®
Pathogens Detection: GENE-UP®, VIDAS KUBE®, Culture Media
Environmental Monitoring (ENVIROMAP®, E-LEARNING®, CONNECT-UP®)
Lab Efficiency: BLUE LINE®, BIOBALL®
Find out more on Food Safety & Quality | Pioneering Diagnostics (biomerieux.com)
bioMérieux, D-COUNT, TEMPO, GENE-UP, XPRO, VIDAS KUBE, ENVIROMAP, E-LEARNING, CONNECT-UP, BLUE LINE and BIOBALL logo are used, pending or registered trademarks belonging to bioMérieux S.A. or one of its subsidiaries or one of its company.
Microbiology Product Areas