21st July 2017 Content supplied by: Technical Service Consultants Ltd
TSC Templates Ensure Accurate and Consistent Surface Sampling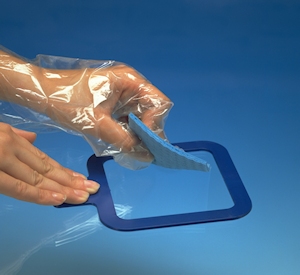 Technical Service Consultants (TSC) now offer TS/15-T Sterile Blue 10 x 10 cm plastic templates for accurate and consistent surface sampling conforming to all current standards.
Ideal for use in monitoring bioburden on flat surfaces whether it be in food manufacturing, a clean room environment or any other critical area, the template helps to define sample size allowing the investigator to be sure of swabbing exactly the right surface area, every time!
Recommended to be used with TSC Hygiene monitoring products such as swab and sponge kits. Templates can also be used when taking samples from carcass surfaces.
Key Features and Benefits include:
Conformity - meets requirements of recognized standards
Sterile Single Use - sterilised by gamma irradiation, single use ensures no cross contamination
Robust - made of blue polystyrene, the templates stand up to the most challenging of sampling
Easy - a press plate ensures template is held in position on the surface to be sampled
Secure - template is securely sealed within an easy to open sterile bag
Long Shelf Life - 24 months shelf life with printed lot no and expiry date, 50 templates per box
For further information please email sales@tscswabs.co.uk or use the 'Request More Information' button below.
Please note : Any products described on this page are for Research Use Only and not intended for clinical diagnostic procedures unless otherwise stated.
Tags:
Date Published: 21st July 2017
Source article link: View
Related news