27th April 2021 Content supplied by: rapidmicrobiology.com
Rapid Microbial Testing for Dairy Industry - A rapidmicrobiology Special Focus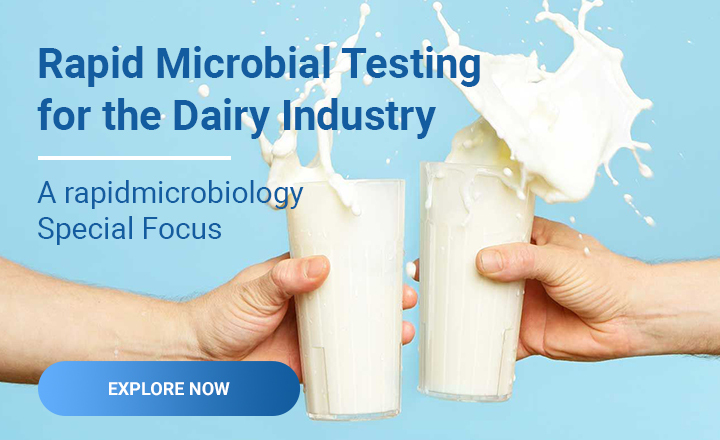 Continuous microbiological monitoring is essential in the dairy sector, starting from raw milk input through pasteurisation, processing and onto filling final product. Both environmental monitoring, in-process and end product testing are key to optimising quality both in terms of spoilage and food safety thereby reducing product recalls and maintaining brand reputation.
There are many potential problem organisms starting with those that can survive pasteurisation such as spore-forming Bacillus, Clostridia, and other thermoduric organisms. Others may be introduced from biofilms or other environmental inputs and at the cold storage temperatures of liquid milk, psychrotrophs such as Pseudomonas become a very common cause of spoilage.
Each downstream processing step of liquid milk brings it's own opportunities for contaminants, such as yeast and moulds in yogurt, cheeses and other fermented ranges such as Kefir and quark. Liquid milk is also moving into new markets in warmer climates and processing techniques for extended shelf-life and alternatives to pasteurization can help but need monitoring.
Infant milk formula and spray dried milk powder brings very specific concerns of Cronobacter sakazakii capable of surviving very dry conditions. Testing options now available for platforms make the workflow easier when detecting potential pathogens such as Cronobacter, Salmonella and Enterobacteriaceae.
So, how can you ensure your lab is performing these analyses correctly? A new proficiency testing scheme from BIPEA now offers liquid milk samples contaminated with known spoilage and pathogenic organisms.
In this rapidmicrobiology special focus on 'Rapid Microbial Testing for the Dairy Industry,' we showcase options for getting fast, microbiology results with optimised workflows - ideal for high throughput routine dairy testing laboratories. Detect signs of contamination problems early and maintain the high standards of quality your brand is known for.
Tags:
Date Published: 27th April 2021