28th November 2016 Content supplied by: iNLABTEC AG
Unique Manual Two Fixed Volume Pipette Simplifies Dilution and Plating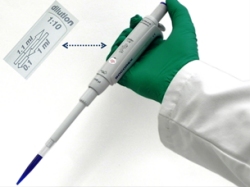 Especially intended for use in microbiological food testing, Inlabtec introduces in collaboration with the Swiss pipette manufacturer Socorex the two fixed volume pipette Acura 810L 1+0.1ml for standard pipette tips.
This unique manual air displacement pipette makes it possible to aspirate 1.1 ml followed by subsequent dispensing of 1 ml and 0.1 ml of the sample, in addition to 1 ml standard pipetting.
In many cases food testing labs have to inoculate a Petri dish with 1 ml of diluted sample for a pour plate followed by the inoculation of a spread plate with 0.1 ml of the same sample. With the two fixed volume pipette Acura 810L 1+0.1ml a single sample aspiration is sufficient to inoculate these two plates. This simplifies and reduces pipetting while increasing comfort and efficiency of the workflow.
Derived from the widely used straw pipette Acura manual 810, the Acura 810L 1+0.1ml is a state of the art air displacement pipette, pre-calibrated for 1 ml and 0.1 ml. The pipette fits to 1 ml standard tips, has an adjustable tip ejector, is fully autoclavable and convinces with excellent ergonomics. A three year warranty confirms the top Swiss quality.
In combination with the Inlabtec Serial Diluter the two fixed volume pipette is an additional help to make serial dilutions and the plating for counts even more comfortable and efficient than before.
Watch a video demonstration at www.youtube.com
Further information are available on www.inlabtec.com or contact iNLABTEC AG on +41 71 222 48 65
Tags:
Date Published: 28th November 2016
Source article link: View