8th June 2016 Content supplied by: iNLABTEC AG
Cleaned Test Tubes - Not Always Clean Enough?!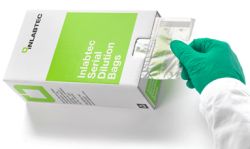 Comparative total viable counts (TVC) after performing serial dilutions using test tubes versus the Inlabtec Serial Diluter have identified growth-inhibiting residues in the test tubes used for dilution preparation. Due to the results obtained, the test laboratory involved now uses the Inlabtec Diluter routinely to ensure the reliability of their food testing services.
A food microbiology laboratory prepared plate counts of different food samples in parallel using serial dilutions with self-prepared test tubes and with the Inlabtec Serial Diluter. An unexpected difference between the two dilution techniques for TVC) of -0.628 log CFU/ g was found (CFU: colony forming unit). Dilutions with the Serial Diluter systematically detected nearly five times more viable counts in the studied food samples compared with test tube dilutions.
For the Enterobacteriaceae enumerated in parallel however, no difference was found as the average difference detected was only 0.017 log CFU/ g and therefore clearly within the usual range of uncertainty of ± 0.5 log CFU/ g for CFUs in food samples.
User errors with the Serial Diluter could be excluded. The diluent was the same for both techniques and the volumes used within the accepted tolerance.
A set of pre-filled test tubes (Oxoid TV5013D) were purchased for further comparisons. When comparing colony counts after serial dilutions with Inlabtec and purchased dilution tubes from Oxoid no difference was detected for TVC and for the number of Enterobacteriaceae for the food samples analyzed. The average difference between the two dilution techniques was within the usual uncertainty range of ± 0.5 log CFU/ g: for TVC -0.088 log CFU/ g and Enterobacteriaceae -0.054 log CFU/ g and would be considered statistically the same.
Due to the results obtained the presumed presence of growth inhibitory contaminants in self-prepared test tubes could be confirmed. In addition, different types of bacteria appeared to show different susceptibility to the possible contaminants.
The results confirm the reservations many laboratories have regarding multi-use test tubes and pipettes etc. Incomplete cleaning of glassware can be due to various factors such as unnoticed washer malfunction, incorrect washer loading, wrong program selection or detergent dosage, which can lead to the presence of growth inhibitory substances such as detergent residues and secondary metabolites etc. These can never be completely excluded and are a possible source of risk for reliable analytical results. Therefore, ISO7218: 2007-11 describes the regular inspection of cleaned glassware for the absence of inhibitory substances and the US Environmental Protection Agency (US EPA) has a mandatory standard procedure defining how cleaned glassware has to be tested regularly for the presence of growth inhibitors so that the quality of water testing is guaranteed.
When using Serial Dilution Bags with the Inlabtec Serial Diluter inhibiting substances are completely excluded and therefore the reliability of laboratory test results can be guaranteed. The Serial Dilution Bags, made of high-purity PE foil, are manufactured and packed under cleanroom conditions, before being sterilized using radiation. The bags are guaranteed to be free of any inhibitors and therefore allow the reliable, reproducible detection of the whole microbial population in a sample including residue susceptible organisms.
The original laboratory that conducted these tests has now been using the Inlabtec Serial Diluter for over two years and is not planning to return to re-usable test-tubes for their serial dilutions emphasizing their commitment to the highest possible quality and reliability of services offered to their customers.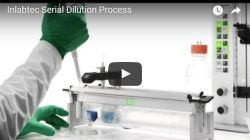 A one minute video showing how to work with dilution bags may be viewed at www.youtube.com
Visit www.inlabtec.com and learn more about how easy and cost effective it is to achieve consistent, reliable food microbiology results.
Tags:
Date Published: 8th June 2016
Source article link: View