23rd May 2017 Content supplied by: iNLABTEC AG
Proficiency Tests Show Improved Consistency With Inlabtec Serial Diluter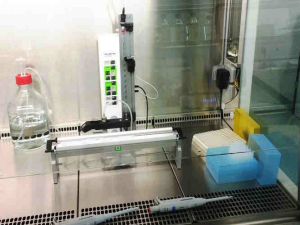 Inlabtec has published a new independent method comparison, by an ISO/IEC 17025 accredited and GMP compliant Swiss testing laboratory, which compared the performance of their Serial Diluter system with the traditional test tube technique over a 3-year period.
The results from the interlaboratory (proficiency) tests show a clear improvement in the accuracy and consistency of Total Viable Count (TVC) determinations using the Inlabtec Serial Diluter compared to the test tube technique.
Quality accredited test laboratories must regularly participate in proficiency tests. This enables them to assess their current measured values as well as their laboratory performance over time. A frequent performance parameter of proficiency tests is the z score, which indicates how many standard deviations a value is from the mean of interlaboratory comparisons.
For the reported proficiency tests the TVC of two reference milk samples was determined twice per year by the pour plate method by a minimum of 3 technicians and the results sent to the test coordinator. For serial dilutions the test tube technique was used until 2015 and from 2016 onwards, only the Inlabtec Serial Diluter has been used.
Compared to the traditional test tube technique, the serial diluter automates sample dilution in a single step which integrates precise dispensing and homogeneous mixing. This leads to higher accuracy as well as to a higher consistency in test results between technicians as the automated dilution performed by the Serial Diluter minimizes the potential of human errors and individual differences in microbiological technique.
Using the Inlabtec Serial Diluter, all lab staff has been able to deliver microbiological results of the highest reliability and quality, regardless of professional experience and manual skills. In addition, the technicians benefit from a faster, simplified dilution process as well as eliminating time spent washing, filling, autoclaving or checking test tubes.
For a copy of the detailed data of the proficiency test, and further information on the Inlabtec Serial Diluter, please use the "Request More Information" button below.
Tags:
Date Published: 23rd May 2017
Source article link: View
Related news