21st March 2018 Content supplied by: Technical Service Consultants Ltd
Easy Way to Monitor L. monocytogenes in Food Processing Environments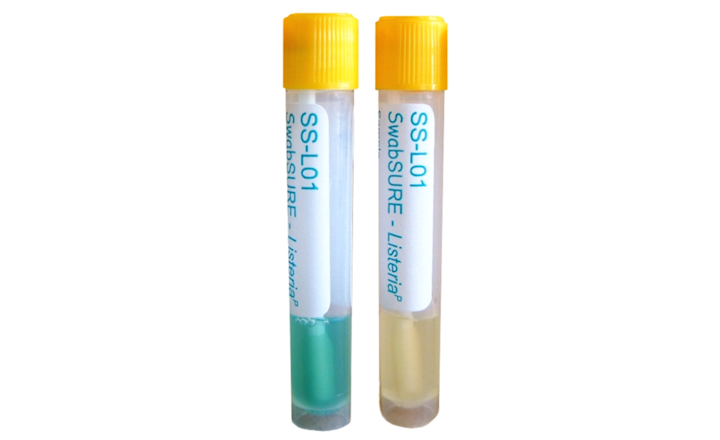 SwabSURE ListeriaP is an innovative, chromogenic based product for monitoring food processing environments and food contact surfaces for Listeria. Simply swab the surface, replace swab back into tube containing ready-to-use regeants and incubate for 24 to 48 hours, after incubation a turquoise-blue colour indicates presumptive presence of Listeria monocytogenes or L. ivanovii.
Other commensal organisms such as Bacillus spp., Entercoccus spp., Micrococcus spp., Klebsiella spp. and other spoilage organisms are prevented from growing by a combination of antibiotics and inhibitory compounds.
ListeriaP permits easy differentiation between pathogenic L. monocytogenes and L. ivanovii from other background microorganisms including other Listeria species like L. innocua. This simplifies the whole testing process involved in meeting safety and regulatory requirements such as HACCP.
Key Features and Benefits of SwabSURE ListeriaP include:
Sampling swabs are coloured blue for clear identification in a food processing environment
Open matrix of the foam swab enhances recovery and release of microbial cells ensuring accurate and reliable results
Neutralising buffer inactivates QACs, phenols, peroxides and other sanitisers increasing viability of sample
False positives eliminated by introduction of chromogenic media for easy identification
Simple and quick, ready-to-use with no mixing reagents or multiple steps
Campden BRI validated, ISO 18593 compliant
Results in 24-48 hours
For more information visit www.tscswabs.co.uk or use the Request More Information button below.
Tags:
Date Published: 21st March 2018
Source article link: View