BioMire
BioMire, makes microbial risk management intuitive, by offering you the tools to build a powerful data history, which can then be exploited to understand what is normal or not and find out why.
Address Strasbourg
France
Website
Email
Telephone
+33 (0)3 69 61 99 33
nomad® by BioMire is an end-to-end turn-key system for the management of microbial contamination risks:
Suspicion → Investigations
Confirmation → Troubleshooting
Issue mitigation → Verification
Prevention → Monitoring
Building on its extensive experience in the field, BioMire has developed devices and software to help companies with little or no laboratory means in dealing with the detection and monitoring of microbial contamination in Production Lines.
The remote diagnostics system nomad is designed to collect, enrich, interpret, and manage microbial data to reinforce operations through application of the Plan-Do-Check-Analyse principle.
It addresses the problem of dependence on external technical expertise and monitoring experience by simplifying and automating data management throughout industrial processes and includes expert services for building or improving monitoring plans tailored for troubleshooting, auditing and routine surveillance.
The system comprises of:
Autonomous and connected test devices for on-site sampling and testing of liquids and surfaces.
A mobile app that guides the plant operator throughout on-site testing and collects relevant contextual information in a paperless system.
A web app that collects, normalises, and analyses test results with the assistance of AI to build a solid data history. The web app features include alerts, trend monitoring, and plant mapping dashboards.
Expert services to build or jump-start the design and implementation of monitoring plans
nomad features include:
End-to-end paperless recording
Ease-of-use on-site, with familiarity in just minutes
Quantitative results consistent with lab results
Pre-set sampling protocols and template menus for on-the-fly testing
Automatic colony count by AI, labelling of microbial populations
Complete test records with location, time, sampling point and results, batch #, sample treatment, incubation time, device expiry date
Result management: display, normalisation, editing, and export of individual test reports
Trend analysis, alert settings, plant mapping, and data export to CSV
Remote services for customised monitoring plan design and set-up (available in English or French)
Safeguarding of data history
Products
Please note : Any products described on this page are for Research Use Only and not intended for clinical diagnostic procedures unless otherwise stated.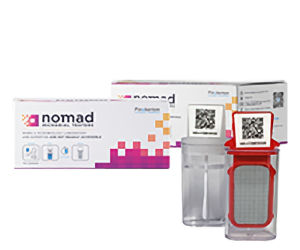 ClinicalCosmetic/Personal CareFood & BeverageWater
Designed for on-site sampling and testing for microbial contaminants, the nomad IoT Dip-Testers are based on the established membrane filtration technique for CFU counting. On-site sampling and testing The nomad IoT test devices contain a built-in chamber for convenient liquid collection, in which a test paddle is dipped immediately after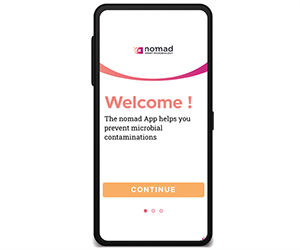 ClinicalCosmetic/Personal CareFood & BeverageWater
Designed to assist non-experts during on-site sampling and testing while recording full sampling point and contextual information automatically. Test protocol templates for sampling liquids, surfaces, emulsions, hard-to-filter, containers, and more are built into the App. Each template contains: a test tutorial the list of parameters that are necessary for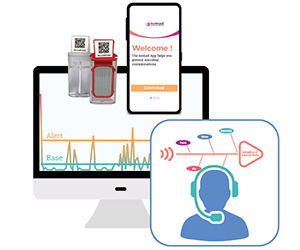 ClinicalCosmetic/Personal CareFood & BeverageWater
Expert services designed to assist industry managers in setting up or accelerating the design of sampling plans tailored for troubleshooting, auditing, and routine surveillance. The Expert Services can include risk assessment, troubleshooting plan, monitoring plan design and set-up, periodic plan reviews. They are provided remotely, in English or French. They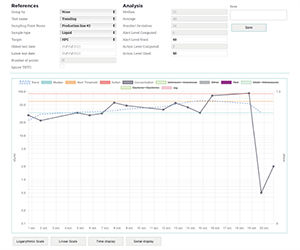 ClinicalCosmetic/Personal CareFood & BeverageWater
A Smart Microbiology Web App designed to simplify data analytics for microbial monitoring and create insightful dashboards. Test reports: Individual test results sent by the nomad Mobile App are displayed for editing, validation, and export. The Pixa AI system automatically counts the colonies and suggests the type of microorganism when
Microbiology Product Areas