19th October 2020 Content supplied by: various sources as indicated
Special Focus on What's on Show at IAFP Plus Latest Products for Food Safety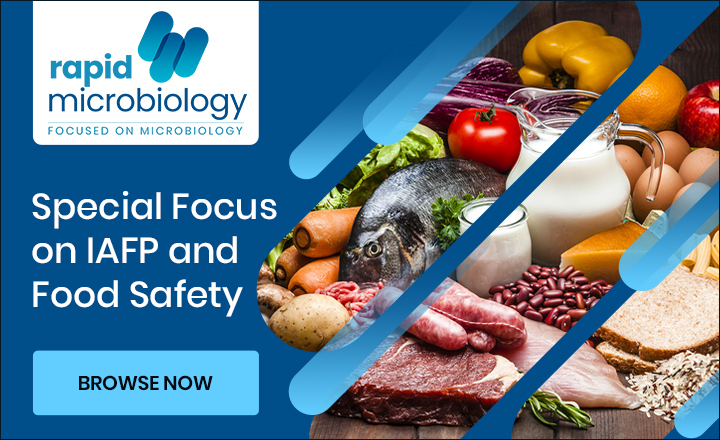 The Annual IAFP Meeting is a time for food safety professionals to renew and review along with peers, of what's gone before, what's current and what's ahead.  
For 2020, the meeting will be a virtual one due to COVID-19 safety precautions, a first in the association's 109-year history. But far from compromising on quality, the meeting will emulate the unique networking and career-advancing experience of an in-person event. 
The line-up consists of symposiums, roundtables, technical presentations and posters, just like events gone before, and will allow participants to engage with each lecture/discussion, which is also recorded for future reference. 
Our rapidmicrobiology special focus brings you the latest products on virtual show at IAFP 2020 and also those for food safety generally - complimenting the event, by providing updates and information to keep your lab up-to-date.
At this year's event, Bio-Rad will showcase rapid pathogen diagnostic solutions, iQ-Check real-time PCR kits, and chromogenic media, including a brand new offering for powdered infant formula and related dairy ingredients.
Learn from Laura Bleichner, lead developer at Eurofins, who focuses on the validation studies carried out on its free DNA removal application and their rapid STEC detection workflows.   
Perkin Elmer demonstrates an efficient workflow for Salmonella screening, with only one enrichment step and next-day detection with its ISO 16140 and AOAC OMA certified method.
Discover huge savings from NSI's multi-organisms cocktail, which can be used as certified reference materials to check 3M™Petrifilm as well as other dehydrated film based tests for tests such as Aerobic Plate Count (APC), Total Coliform etc. 
Like flow charts? Sartorius guide you through the different steps in the beer workflow and show how the variety of applications and solutions they offer can improve testing in your brewing process.
Improve Listeria testing workflow with the Interscience instaBAG Fraser ½ - a filter bag that comes pre-loaded with ready-to-rehydrate half Fraser broth. 
Tags:
Date Published: 19th October 2020