24th April 2023 Content supplied by: various sources as indicated
Smarter Microbiology – Predict and Prevent - a rapidmicrobiology Special Focus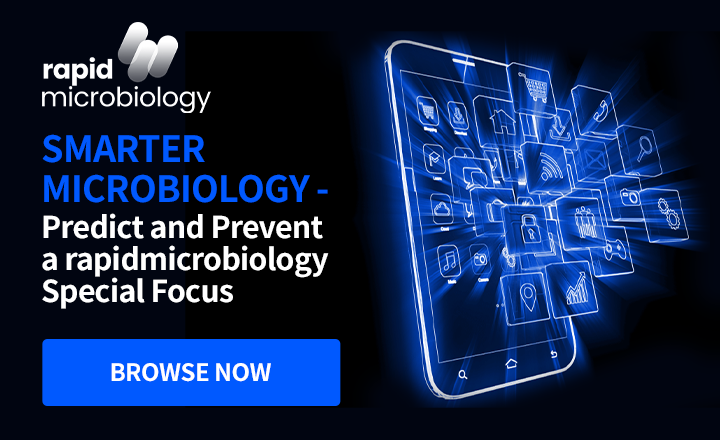 In recent years the focus has shifted in the food industry from reacting when a problem occurs to trying to predict and prevent an issue in the first place.
One example of this is the approach taken in the U.S. Food and Drug Administration's (FDA) New Era of Smarter Food Safety, announced in July 2020. The main goal is to tackle foodborne diseases by reducing the number of illnesses, as rates have not altered much in the past few years. The blueprint aims to enhance traceability, improve predictive analytics, respond quicker to outbreaks and reduce contamination of food. It takes into account new business models and food safety culture.
An FDA spokeswoman told rapidmicrobiology that the plan contains goals that will help those working in microbiology and food safety.
"These include increasing the number of laboratories that can submit sequences of parasites, pathogens and viruses isolated from food samples via FDA's GenomeTrakr. Continuing to build capacity to upload FDA's food and environmental sample sequence data to PulseNet to facilitate investigations of foodborne outbreaks and increasing awareness and training to facilitate opportunities to speed whole genome sequencing of pathogens by public and private labs," she said.
"Microbiologists will also benefit from access to more and better data. The New Era blueprint is clear on the importance of increasing the amount and quality of the data FDA has through information-sharing agreements and public-private data trusts. We want to use data analysis to strengthen predictive capabilities and make more informed risk management decisions."
Technologies, such as whole genome sequencing, artificial intelligence, the Internet of Things, sensors, and blockchain, are an important part of the plan for a more digital, traceable system. The "smarter" aspect focuses on simpler, more effective, and modern approaches and processes.
With better traceback, the ability to conduct root-cause analyses will be greater, and findings can be used to better inform preventative actions. Predictive analytics tools can help identify when and where contamination might be likely to occur.
A broad range of stakeholders had attended webinars about the approach, said the spokeswoman.
"The New Era of Smarter Food Safety blueprint has been well received by stakeholders in the food industry and by FDA's regulatory partners at all levels of government. Speaking requests for leaders in FDA's Office of Food Policy and Response have focused on getting more information about how the New Era will take shape over the next 10 years."
It doesn't take too much imagination to think that in the future we could be receiving alerts on our smartphones when our dinner has reached a safe temperature or getting a text message when we've purchased something that's been recalled.
Clinical and pharmaceutical microbiology laboratories are increasingly asked to perform rapid turnaround tests while meeting financial and staffing demands. Here, AI-based automation and other digitally based data handling software can offer unique solutions to help laboratory managers meet these challenges.
Discover solutions to make smarter decisions for Food, Pharmaceutical and Clinical Microbiology.
Tags:
Date Published: 24th April 2023