2nd May 2023 Editorial by: Paul Carton
AI and Automation Rise to Antimicrobial Resistance at ECCMID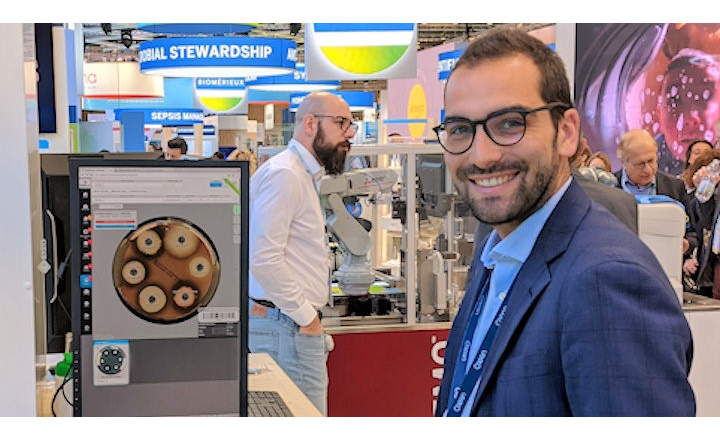 The antimicrobial resistance (AMR) crisis, also known as the 'silent pandemic,' was the central theme of this year's ECCMID event. A leading cause of death worldwide and estimated to claim more than 1.27 million lives each year, with those numbers set to rise. By 2050, the World Bank estimates that AMR could drive an additional 28 million people into severe poverty and trigger 1 trillion dollars in healthcare costs.
Fortunately, worldwide AMR surveillance programs provide valuable data to physicians, and new automation and AI technologies are improving lab workflows providing faster results.
Full laboratory automation is common across much of the life sciences, but the microbiologist should not feel left behind because, as demonstrated at ECCMID, COPAN aspires to bring the medical microbiology lab into the fourth "digital" revolution of automated sample prep, standardized streaking, and AI-based analyses, with the decision served up on a plate to the microbiologist for confirmation.
Over 200 microbiology laboratories worldwide are now totally automated by COPAN's full suite of automation WASPLab, enabling AI-based software to make presumptive AST results with high precision.
COPAN focused on improving care for patients potentially infected with multi-drug-resistant organisms (MDRO) in 2003 with the invention of the patented FLOQSwabs, engineered to ensure sufficient specimen release to run multiple tests simultaneously with the Liquid Based Microbiology products line.
"MDRO screening saves lives, as resistant organisms may lead patients to sepsis; this is why screening patients before admission into hospital wards is very important, especially for those going to ICUs, Oncology or sensitive Departments. The role of pre-analytical medical devices, such as our eSwab with FLOQSwab, permits to perform molecular testing to check for antibiotic-resistant pathogens, and from the same sample, start culturing to do ID and AST," said Valeria Uberti Foppa, Senior Business Development Manager, COPAN Group.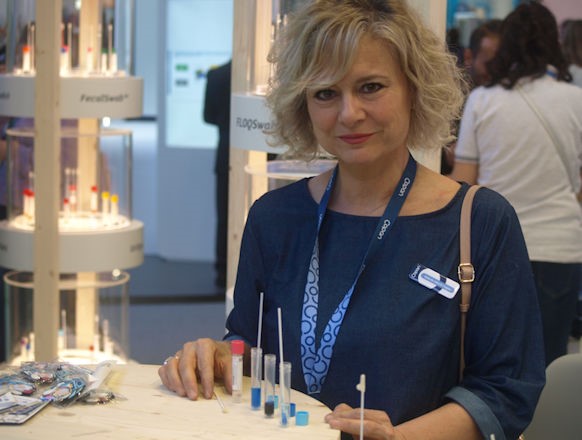 Valeria Uberti Foppa (COPAN) demonstrating FLOQ swabs efficiency at ECCMID '23
COPAN's WASP® takes the sample in a liquid format and automatically streaks it on the culture plate the same way every time. Valeria insists this standardization of streaking is vital for laboratories to benefit from COPAN's suite of AI algorithms:
"We strongly suggest this streaking part is automatized because otherwise, applying artificial intelligence to modules and not standardizing the streaking pattern, the AI will not run correctly when it's evaluating the morphology and the growth of the colony, as its knowledge is derived from thousands of pictures stored in the server evaluated to build up all information."
For antibiotic-susceptibility testing (AST), the plate is streaked and sent instantly to COPAN's Radian®. The Radian In-Line Carousel automatically applies antibiotic disks according to a chosen protocol. This is then subjected to EUCAST rapid rules for incubation in COPAN's WASPLab®, which also takes care of digitizing plates at time intervals. The Radian Expert System interprets halo values according to Rapid EUCAST or with customized in-house rules, and these results can then be validated or adapted and sent to LIS.
If the plate is not for AST, then COPAN's PhenoMATRIX suite of AI algorithms can analyze growth, morphology, color, etc., and sort accordingly, suggesting a follow-up for each plate for validation by the technician with just a click of a button. If ID is required, the colonies are tagged, and their coordinates sent to COPAN's Colibrí™ to pick and prepare slides for mass spectrometry systems, such as the MALDI Biotyper or the VITEK 2.
At San Orsola, Bologna University Hospital, Italy, Dr. Simone Ambretti's micro lab takes samples from the entire Bologna Metropolitan Area. Since 2009, WASP has been automatically streaking their plates, and in 2016 the lab implemented WASPLab, achieving automation of its plate incubation and digital reading. Less than 5% of samples are done manually now at his lab.
Speaking at COPAN's symposium on 'AI applied to Bacteriology,' Dr. Ambretti (S Orsola Hospital) says that 800 samples are processed daily with PhenoMATRIX, which include:
CRE surveillance – rectal swabs
GBS surveillance – vagino-rectal swabs
Yeast Culture – different samples (respiratory, genital)
Urine Cultures
These achieve a 76% presumptive result, with an overall agreement of 96.4% with a lab technician's confirmation.
With all this automation, where does it leave the microbiologist?
"We need microbiologists to validate results. We make it easier and faster for them to validate whether it's negative or positive. The idea is to help them, not replace human activity. In essence, we are automating all the repetitive manual tasks like streaking, and preparation of ID targets, giving more time to the microbiologist," said Diego Zogno, COPAN.
Visit Copan for more or email the company directly by using the Request Information button below.
Please note : Any products described on this page are for Research Use Only and not intended for clinical diagnostic procedures unless otherwise stated.
Tags:
Date Published: 2nd May 2023
Source article link: View