2nd August 2013 Content supplied by: Gibson Bioscience
Microbiology Supplier, Gibson Bioscience Launches New Website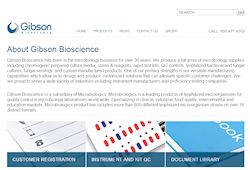 Gibson Bioscience has launched a new, enhanced website with robust functionality for its customers.
Gibson Bioscience manufactures a complete collection of microbiological products including blood culture kits, lyophilized bacterial and fungal control cultures, chromogenic prepared culture media, stains and reagents, rapid test kits, fungal serology controls, and custom-manufactured products.
New features of the Gibson Bioscience website include quick and easy customer registration, detailed product descriptions, a complete document library, and dynamic product and document search capabilities.
Gibson Bioscience General Manager, Naomi Bowling, comments, "Customers can now easily register to purchase our lyophilized microorganism products through a simple online form, versus antiquated paper transfer methods."
Bowling continued, "They can also instantly download our product inserts, safety data sheets and other promotional and technical literature from the virtual Document Library. The site also features a powerful product and document search with multiple options for narrowing search results to quickly locate a particular item."
Chief Executive Officer, Brad Goskowicz, states, "Gibson Bioscience has a specialized clinical product offering and unique manufacturing capabilities. Launching this new website marks the beginning of an increased focus and investment to expand the Gibson brand."
The new Gibson Bioscience website can be found at www.gibsonbioscience.com
Please note : Any products described on this page are for Research Use Only and not intended for clinical diagnostic procedures unless otherwise stated.
Tags:
Date Published: 2nd August 2013
Related news