6th August 2013 Content supplied by: 3M Foodsafety
3M™ Molecular Detection System Receives First AOAC-OMA Validation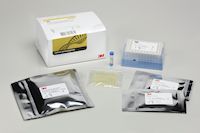 The 3M™ Molecular Detection Assay Salmonella has been validated through AOAC INTERNATIONAL as a First Action Official Method of AnalysisSM (OMA method number 2013.09) for the detection of Salmonella in selected foods.
A complete review of the study conducted for this AOAC-OMA validation will be published by the Official Methods of Analysis of AOAC INTERNATIONAL, online at http://eoma.aoac.org/ and in an upcoming edition of its Journal of AOAC INTERNATIONAL.
3M´s Molecular Detection Assay Salmonella was introduced in December 2011 at the same time as the 3M™ Molecular Detection System as a means to help food processors and other parties detect Salmonella and thereby help to prevent salmonellosis, which affects millions of people each year. It received certification from the AOAC-Research Institute as a Performance Tested MethodSM (PTM) in April 2012.
The 3M Molecular Detection System offers a unique, reliable and rapid qualitative method of pathogen detection in enriched food and feed, as well as food manufacturing environment samples. Developed with insights from customers around the world and representing multiple food industries, the system integrates two innovative technologies - isothermal DNA amplification and bioluminescence detection.
Additional assay test kits are available for E. coli O157 (including H7), Listeria and Listeria monocytogenes.
For more information on the AOAC-OMA approved 3M Molecular Detection Assay Salmonella, visit www.3M.com/3MMolecularDetectionSystem/SALAOAC
Tags:
Date Published: 6th August 2013
Source article link: View
Related news