30th July 2013 Content supplied by: Lab M
New Video Shows Use of Lab M's new µPREP™ Media Format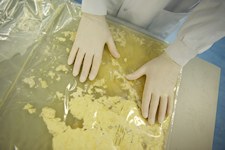 Following the launch of µPREP™ Buffered Peptone Water ISO (BPW), the first in Lab M's new line of bagged, ready-to-reconstitute microbiological culture media, the company has published a video that demonstrates the speed and simplicity of µPREP™ media preparation. The µPREP™ format is designed for maximum convenience and ease of use, to save laboratory time and resources in media preparation for high throughput testing while minimising storage requirements.This five minute presentation takes viewers through a step-by-step guide on how to prepare, use and store the pre-enrichment medium and can be accessed here.
This media format has a number of major advantages, it requires minimal storage space, offers quick, convenient and time-saving reconstitution with no need to autoclave and can be prepared with minimal training. The product is supplied sterile in boxes of 10 highly robust bags, each of which makes 20 litres of complete media.
Formulated to ISO 6579, Lab M's Buffered Peptone Water ISO (BPW) is designed to support the recovery of sublethally damaged salmonellae prior to selective enrichment. This nutrient medium is free from inhibitors and is well buffered to maintain pH 7.0 for the incubation period. Sublethal injury to salmonellae occurs in many food processes and such pre-enrichment steps greatly increase recovery of these organisms.
To find out more about µPREP™ Buffered Peptone Water ISO (BPW), please visit www.labm.com
Please note : Any products described on this page are for Research Use Only and not intended for clinical diagnostic procedures unless otherwise stated.
Tags:
Date Published: 30th July 2013
Source article link: View