15th January 2018 Content supplied by: Lab M Ltd
Resuscitation of Stressed and Injured E. coli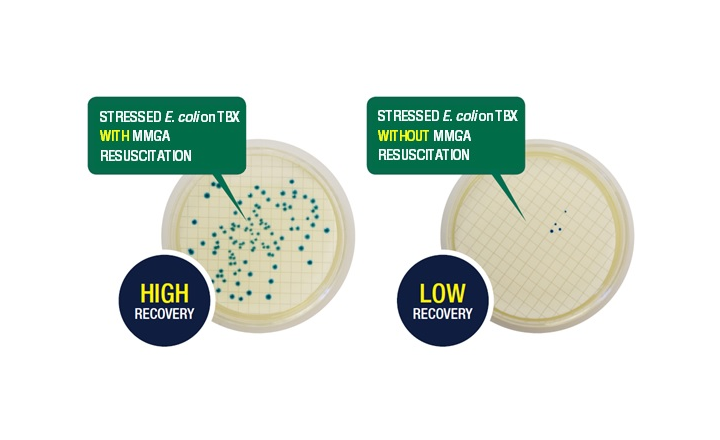 For food and feed manufacturers, processing and environmental factors such as heating, freezing or dehydrating, can cause organisms to become stressed or damaged. To test samples thoroughly for any potentially harmful organisms, an additional resuscitation step can be required prior to enumeration.
MMGA (Mineral Modified Glutamate Agar) is the resuscitation medium specified by ISO 16649-1 for recovery of stressed and sub-lethally injured E. coli, and is used as an additional step prior to enumeration on Tryptone Bile Glucuronide Agar (TBGA/TBX). MMGA has also been specified as the medium of choice in a leading food retailer's preferred testing methods.
Neogen's Lab M has developed their MMGA media for use with food, water and feed samples, and it is both formulation compliant to ISO 16649-1 and performance compliant to ISO 11133. Lab M's MMGA media is available in both pre-poured plate and Dehydrated Culture Medium (DCM) formats. The PIN012 pre-poured plate is supplied fully ready to use reducing time, resource and labour within your media kitchen and QC lab, with no need to weigh or autoclave media. The LAB225 DCM format is available as a base powder with two supplements for optimum stability.
To use, simply place a filter membrane onto the prepared plate, add your sample and incubate for 4 hours, then transfer the membrane straight to Lab M's TBGA/TBX media for incubation and enumeration. The quality of products is extremely important and by complying with ISO 11133:2014 it also means that there is minimal internal QC required by the customer.
Lab M's media is certified in accordance with both ISO 9001 and ISO 13485. The full range of Pinnacle™ pre-poured plates is also QC tested under Lab M's ISO 17025 UKAS accreditation scope.
For more information visit www.labm.com/MMGA.html, email microbiology_uk@neogeneurope.com, or tel +44 (0) 1292 525 629 to speak to one of our technical representatives.
Date Published: 15th January 2018
Source article link: View
Related news