29th March 2022 Content supplied by: rapidmicrobiology.com
Environmental Monitoring Solutions for Pharma Manufacturing - a rapidmicrobiology special focus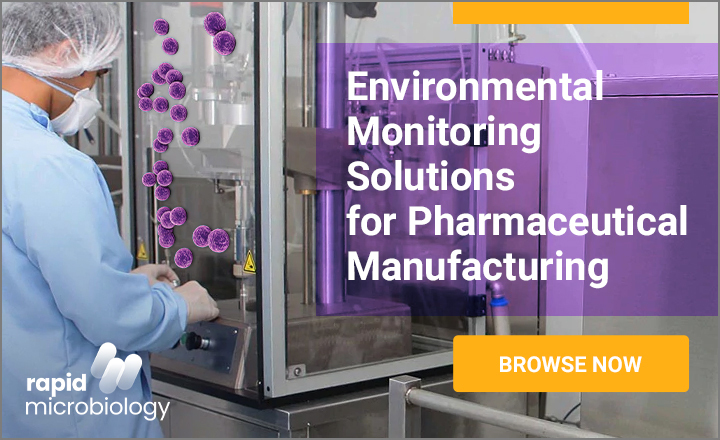 This rapidmicrobiology special focus showcases some products that are designed to help achieve an effective and compliant environmental monitoring programme within the pharmaceutical and biotech manufacturing sector.
Find suppliers of double and triple bagged contact and settle plates that are produced for passive or active sampling in cleanrooms, isolators and RABS, lockable lids help prevent accidental contamination. Gamma irradiated and performance tested, these products can have a long shelf life even at room temperature. Make sure the neutralizers required for your facility are included in the media to reduce chances of false negatives from residual biocides.
For active microbial air monitoring instruments, we highlight some high performance options available on the market, including one for continuous air monitoring as required by the new revision of EU GMP Annex 1. Plus you can now eliminate the need to validate sterilization of microbial air sampler heads by using sterile disposable microbial air sampler heads to ensure new Grade A zero biocontamination limits are met for EU GMP Annex 1.
After sampling comes the decision of how to get the fastest possible growth results, an automated plate reading platform will deliver real time results giving the earliest warning of out of specs whilst still using compendial based methods.
What to do with the isolates that are growing on your plates? Find out about how to compare and differentiate strains, whether to use 16s sequencing, Multilocus Sequence Typing (MLST) or Whole Genome Sequencing (WGS).
Then you can get your common environmental isolates or objectionable organisms prepared in precise dose formats, ready to use for quality control testing.
But don't get swamped in data overload, be audit ready with demonstrable data integrity via software that has been designed to collect and collate environmental monitoring data, get track, trace and trend information at the push of a button.
Tags:
Date Published: 29th March 2022