30th July 2015 Content supplied by: Technical Service Consultants Ltd
Ready-to-Use Poultry Boot Swab Kits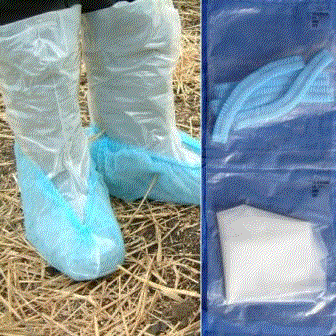 For simple, cost effective, user and environmentally friendly monitoring of the presence of Salmonella and Campylobacter in poultry flocks, Technical Service Consultants (TSC) offer a complete Poultry Boot swab kit.
Recommended for regular in-house hygiene and environmental sampling of poultry houses, boot swabs are far more effective and sensitive for the detection of Salmonella than the traditional Drag swab method of testing and are as sensitive as hand collection of litter.
The TSC Salmonella Poultry Boot swab kit consists of a ready-to-use Poultry Boot Swab pre-moistened in MRD, overboots, gloves and a minigrip bag within a medical grade bag. Using TSC Poultry Boot swabs means producers can take samples at their own convenience within the poultry house with significant reduction in time and costs.
Swabs are dosed with buffer, gamma irradiated and have a 12 months shelf life, visit www.tscswabs.co.uk/full-product-range/hygiene-enviroscreen-range/poultry-boot-swabs
Tags:
Date Published: 30th July 2015
Source article link: View
Related news