14th October 2013 Content supplied by: INTERSCIENCE
New ISO 4833-2 Validation with easySpiral®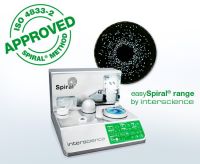 Today, the Spiral plating method is recognized worldwide as a standard. Universities teach it as an alternative method to manual plating, and laboratories use Spiral platers as an essential instrument for their routine work.
With over 35 years of experience in the manufacture of Spiral platers, INTERSCIENCE offers a full range of high-tech patented instruments: easySpiral®, easySpiral® Pro and easySpiral Dilute®. They can help standardize Petri dish plating, they reduce serial dilutions and free up time for more productive work in the lab.
The ISO 4833-2:2013 (Microbiology of the food chain -- Horizontal method for the enumeration of microorganisms -- Part 2: Colony count at 30 degrees C by the surface plating technique) specifies for the plating and enumeration of microorganisms incubated on PCA media at 30°C for food labs working with PCA media. It recommends preparing spread plates using the Spiral plating method, which currently represents more than 40% of all bacterial analyses performed.
To get improved plating accuracy with better ergonomic working practices, ISO 4833-2:2013 recommends the use of :
an Automatic colony counter (such as INTERSCIENCE Scan®)
INTERSCIENCE also offers full data traceability with DataLink.
To read the summary of ISO 4833-2:2013, please visit www.interscience.fr.
Tags:
Date Published: 14th October 2013
Source article link: View