EUROIMMUN AG
EUROIMMUN is an international provider of medical laboratory products for autoimmune, infection, allergy, and molecular genetic diagnostics. The company's portfolio encompasses indirect immunofluorescence assays, ELISAs, immunoblots, radioimmunoassays, chemiluminescence immunoassays (ChLIA), molecular genetic test systems, and automation technologies.
Address Lübeck
Germany
Website
Email
Products
Please note : Any products described on this page are for Research Use Only and not intended for clinical diagnostic procedures unless otherwise stated.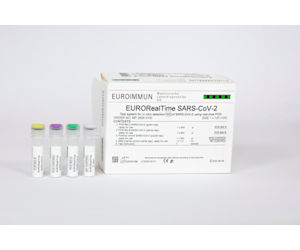 Clinical
Real-time PCR test for specific detection of SARS-CoV-2, including the variants alpha (B.1.1.7 lineage), beta (B.1.351 lineage), gamma (P.1 lineage), delta (B1.617.2 lineage), lambda (C.37 lineage), mu (B.1.621 lineage) and omicron (B.1.1.529 lineage)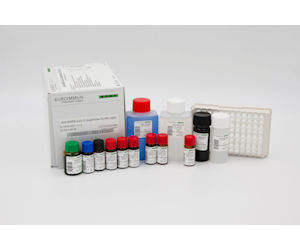 Clinical
Quantitative ELISA for determination of the concentration of IgG antibodies against the S1 antigen (including RBD) of SARS-CoV-2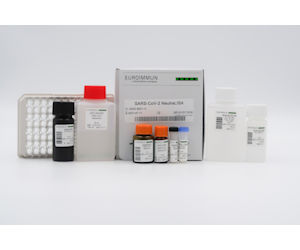 Clinical
Surrogate virus neutralisation test (sVNT) for determination of neutralising antibodies that inhibit the binding of SARS-CoV-2 S1/RBD to ACE2 receptors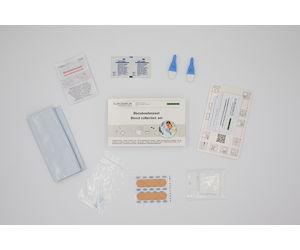 Clinical
Set containing all materials required for collection of dried blood spot (DBS) samples and subsequent dispatch to a diagnostic laboratory for analysis of anti-SARS-CoV-2 IgG antibodies. The antibody detection is performed using EUROIMMUN ELISAs such as the Anti-SARS-CoV-2 QuantiVac ELISA (IgG), which provides quantitative measurement of IgG antibodies directed against
Clinical
The Quan T-Cell ELISA used in combination with the Quan-T-Cell SARS-CoV-2 is an interferon-gamma release assay (IGRA) for quantitative determination of the IFN-γ release of SARS-CoV-2-specific T cells.
Microbiology Product Areas
Clinical

NOTE: The products listed in this section may not be approved for clinical diagnostic use in your jurisdiction. You must assume these products are unregulated and therefore cannot be used for routine testing and reporting of results unless otherwise stated.
Lateral Flow Assays
Show all suppliers
RT-PCR
Show all suppliers
SARS-CoV-2
Show all suppliers
Zika Virus
Show all suppliers