14th May 2013 Content supplied by:
New aCOLyte 3, Affordable, Automated Colony Counter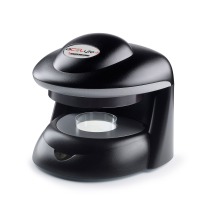 Synbiosis have introduced its aCOLyte 3 cost-effective colony counting system, which is ideal for microbiologists that need to significantly increase their throughput, as well as improve count accuracy.
The new aCOLyte 3 is a low-cost automated colony counter, designed for a rapid count of pour, spread and spiral plates. The system can read plates of up to 90mm in seconds, generating precise plate count results up to ten times faster than manual counts. The numerical count data and plate images can be directly transferred to Excel or Open office to avoid errors in data transfer, ensuring accurate GLP compliant result reporting and archiving every time.
The aCOLyte 3 provides full colour image display and comes complete with software based on Synbiosis' powerful ProtoCOL 3 software (independently validated as a highly accurate colony counting package). The system can be supplied with a computer or scientists can utilise their own laptop or desktop PC and simply connect the aCOLyte 3 via a USB port.
The aCOLyte 3 is lit by white LEDs mounted above and below the plate, enabling accurate detection of colonies as small as 0.3 mm. For laboratories where strong ambient light could interfere, there is also the option to have a detachable screen fitted to prevent any reflection or glare affecting the count.
Martin Smith of Synbiosis stated: "Microbiologists often have to count hundreds of colonies every day. This can be time consuming, tiring and error prone. What they need is simple to set up, yet inexpensive automation for detecting difficult to see colonies, so they can put the plates in a device and quickly obtain accurate counts."
Martin added: "Our design team has listened. After a year of development work, we are confident that our resulting aCOLyte 3 system is the best value technology available and will significantly increase microbial testing throughput in any food, environmental or clinical laboratory which chooses an aCOLyte 3 colony counter."
Please note : Any products described on this page are for Research Use Only and not intended for clinical diagnostic procedures unless otherwise stated.
Tags:
Date Published: 14th May 2013