3rd December 2012 Content supplied by:
MAS-100 Series Active Air Monitoring Systems for Microbial Detection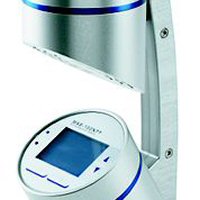 Merck Millipore's MAS-100 series microbial air monitoring systems enable reliable and precise detection of airborne microorganisms which may be hazardous to sensitive products.
The MAS-100 NT® microbial air monitoring system for cleanrooms and sterile environments is an easy-to-handle air sampler system that fully complies with EN ISO 14698.
The MAS-100 NT® Ex model has been specially adapted for use in explosion risk areas.
The MAS-100 CG Ex® system is used to test compressed gasses for microbial contamination. It is the only air sampler of its kind approved for use in Zone 2 explosion hazard areas.
The MAS 100 Iso NT® for sterile production areas and isolators permits installation of sampling heads for standard Petri dishes at critical control points while all electric and moving parts remain outside the critical zone. An internal pump with flow control allows automatic sterilization of the sample head and aspiration tube. The instrument can be adapted for various types of environments.
Tags:
Date Published: 3rd December 2012
Related news