20th October 2015 Content supplied by: Transparency Market Research
Market for Microbiology Culture Media Forecast to Expand
Currently valued at US$4.51 bn in 2014 the Microbiology Culture Media Market is forecast to reach US$7.59 bn by 2023, expanding at a CAGR of 5.9% during the forecast period from 2015 to 2023. This is according to a new report from Transparency Market Research titled "Microbiology Culture Market - Global Industry Analysis, Size, Share, Growth, Trends, and Forecast 2015 - 2023".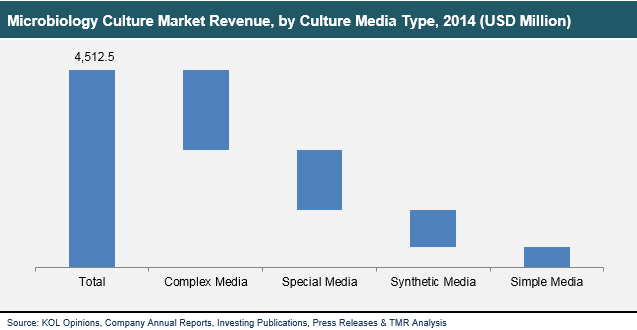 The microbiology culture market has grown significantly in the last few decades in terms of demand in various end-user industries. Academia, clinical research organizations, and commercial end-user industries such as pharmaceutical, cosmetics, and food and beverage are providing impetus to the global microbiology culture market. The increasing potential of bioprocessing and biopharmaceutical applications has driven demand for microbiology culture media products.
The microbiology culture media market is witnessing strong growth due to factors such as increasing food concerns worldwide, rising number of food product recalls, and growing impact of press coverage on food processing industries. The bacterial culture media segment accounted for the larger share of the global microbiology culture market in 2014. Moreover, the segment is likely to continue its dominance during the forecast period from 2015 to 2023 due to expected rise in application in food microbiology, pharmaceutical microbiology, and disease research. In terms of culture media, the complex media segment held the largest share of the global microbiology culture market in 2014, followed by other market segments such as synthetic media, special media and simple media. Demand for complex media is likely to witness continuous growth during the forecast period as it provides full range of growth factors required to cultivate unknown bacteria or bacteria with complex nutritional requirements. Additionally, demand for ready-to-use, off the shelf products in dehydrated and prepared culture media has increased significantly. This is expected to propel the segment in the near future.
Key players profiled in the report include Becton, Dickinson and Company, bioMérieux S.A., Bio-Rad Laboratories, Inc., Eiken Chemical Co, Ltd., EMD (Merck) Millipore, Hi-Media Laboratories Pvt. Ltd., Neogen Corporation, Sigma-Aldrich Co. LLC, Scharlab S.L., and Thermo Fisher Scientific, Inc.
Browse the full Microbiology Culture Market (Culture Type (Bacterial Culture and Eukaryotic Culture); Culture Media Type (Simple Media, Complex Media, Synthetic Media, and Special Media) - Global Industry Analysis, Size, Share, Growth, Trends, and Forecast 2015 – 2023 report at http://www.transparencymarketresearch.com/microbiology-culture-market.html
Tags:
Date Published: 20th October 2015
Source article link: View