25th August 2017 Content supplied by: Mérieux NutriSciences
Need to Know About European Food Safety Trends, Key Issues & Perspectives?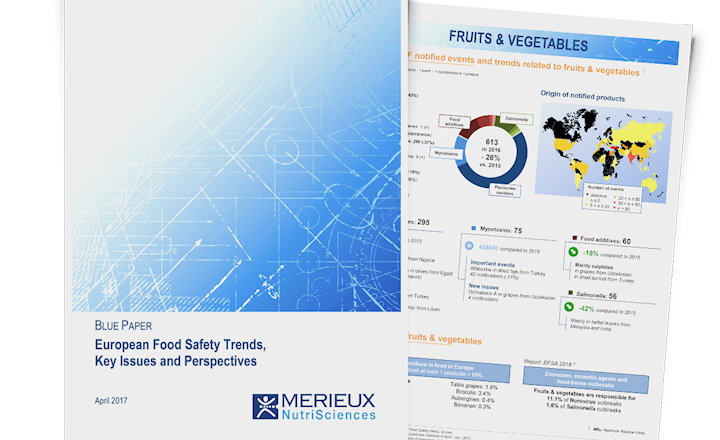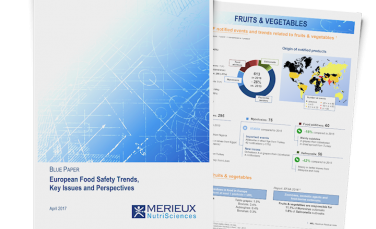 Mérieux NutriSciences has recently published a Blue Paper on "European Food Safety Trends, Key Issues & Perspectives", here Etienne Casal, Executive Vice-President & Head of Europe at Mérieux NutriSciences discusses with rapidmicrobiology what the paper is all about and who will benefit from its well researched findings and clear, easy to interpret infographics.
What need in the food industry is this blue paper trying to meet? Mérieux NutriSciences is committed to protecting consumers' health by delivering a wide range of testing and consulting services. With this in mind, we launched the Blue Paper initiative in order to help our customers and other stakeholders to develop their understanding of current and emerging food-related health issues.
Mérieux NutriSciences Blue Paper is intended to:
help food industry players (manufacturers, retailers, food service, etc.) to put in place quick strategies to anticipate new regulations and consumers expectations,
establish a panel of preventive measures to tackle all the emerging risks along the food chain,
face the ever growing amount of (big) data to make the right long-term strategic choices.
There are reports available directly from RASFF - what makes this paper different? RASFF reports are mostly providing global trends synthesizing the massive amount of product recalls notifications reported by EU countries and stored in RASFF database. Mérieux NutriSciences Blue Paper is going further. It also provides specific statistics crossing food contaminants and food matrices, mapping of the origin of the notified products and key events to be looked at. For this purpose, our experts developed a unique application able to analyze the 48,000 notifications stored in RASFF database and to present trends into an infographic format.
Moreover, the Blue Paper gives a deeper analysis of selected "hot topics": in our 2017 version, 6 contaminants (e.g. acrylamide, pesticides, food contact materials) and 4 food products (e.g. baby food, fish) have been addressed, with the following information provided for each of them in addition to RASFF key facts: scientific state of the art, regulatory framework, preventive measures and analytical assessment.
In addition, in some other Blue Paper chapters, you will find information related to consumers' perspective and future safety challenges.
What makes Mérieux NutriSciences best placed to author such a paper? Mérieux NutriSciences is a leader in food safety and quality and has developed a strong expertise by offering analytical tests to food companies for over 50 years. Many in-house areas of expertise have been gathered to author the Mérieux NutriSciences Blue Paper, such as:
Experts from our laboratories and expertise centers (Food Science Centers, consulting and auditing teams, etc.) all around the world, offering long term experience in tackling food safety issues and crisis management, and fully aware of new risks and emerging issues,
Our scientific experts who are active members of local and international organizations on food safety & quality topics,
Our network of regulatory specialists who monitor everyday publication of new regulations, pre-regulatory scientific opinions, research programs or specific reports from food agencies and governmental organizations,
Our teams in direct contact with food business operators who detect needs, concerns and questions to be answered,
A specific editorial team in charge of the selection, organization and design of the Blue Paper content.
How was this Blue Paper prepared? The paper is the outcome of long-term collaborative work. It notably consisted in the daily gathering of scientific, technical and regulatory information from validated sources, interviews of experts and customers, and the specific analysis of food alerts and recalls. A massive work has also been done to give added-value to the information and make it ready-to-use by food industry players thanks to a clear and visual display.
Who will most benefit from the information within this report? The Blue Paper has a real added-value for food companies' quality and regulatory operators, management teams and marketing players who need to better understand the main stakes of current "hot topics".
But anyone who wants to know more about food safety trends or to read a detailed analysis about these outcomes can be interested in the Blue Paper! We already have received plenty of requests from trade, scientific or governmental associations, but also from students, researchers and journalists.
What key topics does the report cover (e.g. allergens, food paths, pesticides…)? The paper provides a review of 2016 food safety highlights and outlines key issues:
The document starts with an overview of end-consumer perspectives: what are their concerns and expectations? For which kind of products? What is their perception of food quality?
Then, it highlights the recent food-borne outbreaks and gives food recalls global trends at European (RASFF alert system) and country levels (local authorities).
In the third part, you will find a specific RASFF analysis, scientific state of the art, recent events, preventive measures, analytical elements and expected regulations about the following controversial contaminants: Acrylamide, Allergens, Campylobacter, Food contact material contaminants (eg. MOSH MOAH), Glycidyl & MCPD esters, Pesticides
Next, a specific RASFF analysis and scientific and regulatory review is provided for the following food products: Baby food, Fruits & vegetables, Fish, Poultry
The Blue Paper ends with a comprehensive summary of scientific research programs and monitoring plans from competent Authorities in relation to chemical hazards, biological hazards and many other emerging risks, to help readers to anticipate the hot topics of tomorrow.
Further analysis on these topics, but also on other matters of concerns, are available upon request.
What were the main findings for food-borne outbreaks in 2016? All in all, product recalls rose by 9% compared to previous year and by 64% since 2012. In 2016, these recalls are principally due to undeclared allergens and pathogens. Indeed, pathogens remain a high concern: Salmonella, followed by Campylobacter, were the main causative agents of food-borne outbreaks in 2016.
We also identified a raise of some emerging issues. For example, processing contaminants (e.g. MCPD, acrylamide) are more and more under scrutiny. Baby food is linked to important health issues: a rising number of recalls is noted and several new scientific assessments have been released (e.g. Infant Total diet Study led by ANSES, EFSA new scientific opinion).
Were there any findings that surprised the team working on this paper? By improving the presentation of data available in our databases through infographics, we developed a more selective way to consider scientific information and a new vision of topics we already knew very well.
What are the main challenges for food safety in the future? As illustrated by the recent Fipronil scandal, food operators needs to be ready to put in place quick strategies to face brand management and crisis situations. They have to anticipate new regulations and consumers' expectations. Moreover, they will have to make relevant strategic long term choices by establishing preventive measures to face all the emerging risks along the food chain, and tackling the ever growing amount of (big) data available. For these reasons, in the last part of the Blue Paper, Mérieux NutriSciences addresses the emerging issues related to food to point out the possible "hot topics" of tomorrow.
The Blue Paper can be a powerful tool for food safety and quality managers to convince executives on the necessity to put in place robust food safety policies. Some of the emerging topics are already well known but their importance is rising, such as antibioresistance. Other rising matters are still poorly monitored, such as frauds because of the uncertainties due to the multiple targets and potential issues.
Does Mérieux NutriSciences plan to produce this sort of report in the future? Mérieux NutriSciences will reiterate this initiative every year, to make our Blue Paper an annual barometer of food safety trends. Our dedicated team is already working on a second version, taking into account possible feedback from customers and stakeholders' about this first version.
What is the best way to get a copy of this paper? By clicking on the link below, you can order the full version at the special price of 399€ or request an extract for free. You can also leave us your comments that will be very appreciated and taken into account for the next version of the Blue Paper. www.merieuxnutrisciences.com/corporate/content/blue-paper-request-form
Food industry key players may also be interested in Mérieux NutriSciences other activities. Among others, Mérieux NutriSciences offers regulatory update and consulting services, food fraud monitoring and risk assessment, safety and quality consulting, food crisis management, and contract research in dedicated food science centers.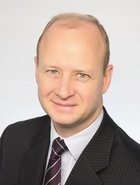 Etienne Casal - EXECUTIVE VICE-PRESIDENT & HEAD OF EUROPE at Mérieux NutriSciences . Since 2014, Etienne Casal has been head of the European region for Mérieux NutriSciences. He is also a member of the Group Executive Committee and the President of Biofortis, a Mérieux NutriSciences contract research organization specialized in the fields of health and nutrition.
He has previously experienced numerous strategic, business and managerial roles in international context. Etienne Casal was notably Vice-president & Global Head of Certification Business Line at Bureau Veritas.
All in all, he has been involved in strategic management for 19 years and developed a strong knowledge of safety and quality sectors since he graduated with engineering degrees of both Ecole Polytechnique and Telecom Paris.
Tags:
Date Published: 25th August 2017
Source article link: View