10th May 2018 Content supplied by: Mérieux NutriSciences
What's Next in Food Safety - Mérieux NutriSciences Blue Paper 2018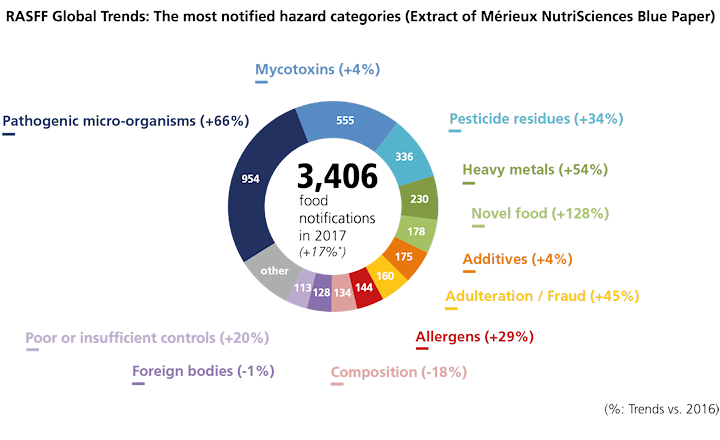 In 2017, Mérieux Nutrisciences published its first Blue Paper on "European food safety trends, key issues & perspectives", intended to help food industry players (manufacturers, retailers, food service, etc.) to tackle emerging risks along the food chain and put in place quick strategies to anticipate new regulations as well as consumers expectations.
Recently, Mérieux NutriSciences launched the second edition of the Blue Paper, with a full update of existing data and additional new focus on specific key topics. Here, rapidmicrobiology speaks to Etienne Casal, Executive Vice-President & Head of Europe at Mérieux NutriSciences about this new 2018 edition.
How did the food industry receive last year's Blue Paper? The first edition of our Blue Paper received a warm welcome from the food industry. In particular, it received very positive feedback from Quality and Regulatory managers, as well as Executives and CEOs of small and large companies. The document also found approval with the scientific community. The Blue Paper can be used to confirm strategic choices of companies, for educational and training purposes or to improve scientific watch activities. It differs from other papers by its valuable content, as well as the unique infographics that provide attractiveness, clarity and make the data accessible to all levels within an organisation.
What's new in the 2018 edition? More than just addressing key facts from the year, Mérieux NutriSciences has decided to make the Blue Paper a reference book for any food operator, with an update of the data provided in the previous edition together with a range of new topics that have emerged recently or have raised concerns over the past few years.
Like the 2017 edition, the document starts with an overview of end-consumer perspectives but is enriched with data on lifestyle changes and decision criteria about what to eat or drink. Then, after highlighting the recent food-borne outbreaks and giving global trends about safety alerts and products recalls, Chapters 3 and 4 provide an in-depth focus on specific food contaminants and food matrices. Among the new topics addressed in 2018 edition are:
Chemical contaminants - Mycotoxins, Nanomaterials, Plant toxins, Endocrine disruptors,
Microbiological contaminants - Antibiotics & Antibiotic Resistance, Foodborne viruses, Salmonella,
Food matrices - Cereals & bakery, Eggs, Meat, Milk & dairy
Finally, the last section of the Blue Paper has been enriched with recent monitoring plans or risk assessments by food agencies to even better anticipate regulatory measures and hot topics of tomorrow.
There appears to be a trend of increasing food alerts, particularly due to pathogens, what is the reason behind that? As you can read in this new edition of the Blue Paper, a total of 3,406 food notifications have been reported in RASFF in 2017. It represents an increase of 17% compared to 2016. Among these 3,406 notifications, 954 were due to food pathogens which remains reason No.1 for food notifications and has significantly raised in 2017 (+66%) compared to 2016.
In the context of globalization of food markets, food industry and local authorities are more and more cautious about products at risk. It notably leads to an increased in product recalls. In Europe, pathogens remains one main reason for product recalls but exceeded by undeclared allergens.
Antibiotic resistance is increasing in the food supply chain, how can this report help address the problem? A deep focus is made on Antibiotic Resistance topic, with specific information about:
the causes of this growing issue,
the products contributing to exposure,
the associated risks for human health,
preventive measures to be set up from the farm to the fork,
important events in 2017 linked with it,
unique RASFF statistics on product recalls because of too high levels of antibiotics,
norms and regulatory perspectives to be taken into account by food companies.
Our goal is to raise awareness about this issue and to highlight the key elements for our customers and stakeholders to take the appropriate measures to limit the risk as much as possible.
Foodborne viruses can be particularly difficult to detect, are they undereported? In the European market, only 32 notifications due to foodborne viruses were reported in RASFF in 2017 and 23 in 2016. However, as you can read in the second part of our Blue Paper, viruses are one of the main reasons for foodborne outbreaks according to EFSA annual report on trends and sources of zoonoses, zoonotic agents and foodborne outbreaks in 2016. Indeed, 454 outbreaks were linked to viruses. This suggests those foodborne viruses may be undereported.
What are the trends and challenges for 2018? Food industry needs to be ready to put in place quick strategies to face crisis situations and protect brand. They have as well to integrate long term approach by anticipating emerging risk, new regulations and consumers' expectations. For all these reasons, we dedicated the last part of the Blue Paper to a prospective approach in order to help our customers and stakeholders to know the emerging topics and future points of concern.
Some of the emerging topics are already well known but their importance is rising, such as GMOs, dioxins and furans. Other rising matters are still poorly monitored, such as endocrine disruptors into food and new diets related with changes in consumer's food behaviour. Such a prospective tool may help food safety and quality managers to convince executives on the necessity to put in place robust targeted policies.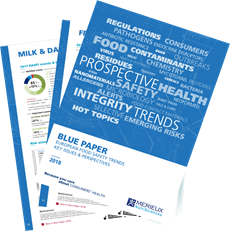 Why should food safety professionals invest in an expert paper such as this? The experts from our laboratories and expertise centres around the world offer long term experience in tackling food safety issues and crisis management. They are fully aware of new risks and emerging issues. Therefore, the Blue Paper is dedicated to becoming a reference book by covering a wide range of issues linked with food safety and quality. It can help in the building of food safety strategies in the short et longer term. Of course, our experts stand ready to deep dive of topics addressed in this paper or to bring support in relation to any other food safety issue.
Click here www.merieuxnutrisciences.com, to order the full version of the 2018 Blue Paper or request an extract for free. You can also leave any comments and these will be taken into account for the next version of the Blue Paper: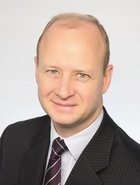 Etienne Casal - EXECUTIVE VICE-PRESIDENT & HEAD OF EUROPE at Mérieux NutriSciences. Since 2014, Etienne Casal has been head of the European region for Mérieux NutriSciences. He is also a member of the Group Executive Committee and the President of Biofortis, a Mérieux NutriSciences contract research organization specialized in the fields of health and nutrition.
He has previously experienced numerous strategic, business and managerial roles in international context. Etienne Casal was notably Vice-president & Global Head of Certification Business Line at Bureau Veritas.
All in all, he has been involved in strategic management for 19 years and developed a strong knowledge of safety and quality sectors since he graduated with engineering degrees of both Ecole Polytechnique and Telecom Paris.
Tags:
Date Published: 10th May 2018
Source article link: View