7th April 2014 Content supplied by: Liofilchem
Liofilchem Pathogenic System AST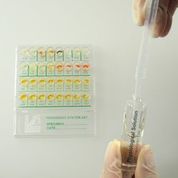 Identification and Antimicrobial Susceptibility Testing of the main pathogenic microorganisms directly from Clinical Specimens
Pharyngeal swab, Cutaneous swab, Auricular swab, Ophthalmic swab, Expectorate, Exudates and other clinical specimens.
Direct microbial identification
Streptococcus pyogenes (group A), Staphylococcus aureus, Haemophylus spp., Neisseria spp., Escherichia coli, Streptococcus agalactiae (group B), Klebsiella spp., Enterobacter spp., Serratia spp., Proteus spp., Providencia spp., Pseudomonas spp., Enterococcus spp. (group D), Candida spp.
Antimicrobial Susceptibility Testing
Gentamicin, Netilmicin, Azithromycin, Clarithromycin, Amoxicillin-Clavulanic Acid, Ampicillin-Sulbactam, Piperacillin-Tazobactam, Ceftriaxone, Cefoperazone, Ceftazidime, Cefuroxime, Pefloxacin, Levofloxacin, Ofloxacin, Rifampicin, Meropenem, Co-trimoxazole.
Please note : Any products described on this page are for Research Use Only and not intended for clinical diagnostic procedures unless otherwise stated.
Tags:
Date Published: 7th April 2014
Source article link: View
Related news