11th July 2016 Content supplied by: Seward Limited
Instantly Soluble, Pre-weighed Media in Stomacher® Bags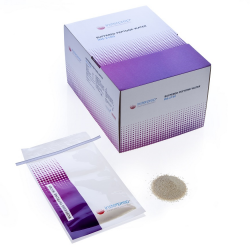 Seward Ltd, manufacturers of the Stomacher® blender and creators of the Insterprep® range of instantly soluble sterile media, has teamed up with Scientific Laboratory Supplies (SLS) as their primary distribution partner for Insterprep in the UK.
Insterprep® is a new range of pre-weighed, sterile, granulated media available in Stomacher® bags or sachets. Designed to speed up and simplify sample preparation for microbiological analysis of food samples, Insterprep media bags combine the media preparation and sample preparation steps into one single process.
Seward has been able to leverage off the culture media experience and quality controls of one the world's leading microbiology brands, HiMedia Laboratories, to create Insterprep (Instant Sterile Preparation). By working closely with media experts HiMedia Laboratories, Seward developed the Insterprep range to help laboratories cut waste, increase capacity and respond to varying workflow requirements. Manufactured to ISO standards, Insterprep has been tested and proven independently by the world renowned Leatherhead Food Research Agency.
Lee Jenkins, Supply Development Manager at SLS, says: "UK food testing laboratories are under constant pressure to reduce costs, reduce contamination risks and ease laboratory workflow. SLS is committed to finding solutions that help our customers achieve this; Seward's Insterprep range can provide our customers with real benefits to alleviate workflow pressures while maintaining performance requirements."
Dan Crothers, Managing Director of Seward, concludes: "As the largest independent British-owned supplier of scientific equipment, we are delighted to be working with SLS to bring Insterprep sterile media to the UK market. Not only does Insterprep minimise waste by having just the right amount of sterile media required for each sample, but it also eliminates contamination risk, weighing errors and laboratory bottlenecks often caused by batch media preparation. Insterprep sterile media gives laboratories the flexibility to respond to today's workflow challenges."
For more information on Seward, please visit www.seward.co.uk/insterprep/.
Tags:
Date Published: 11th July 2016
Source article link: View
Related news