25th April 2017 Content supplied by: INTEGRA Biosciences AG
How to Choose a Media Preparator/Filler for Your Microbiology Lab
For those scientists and technicians working in a medium to high throughput laboratory (using >500 plates per week), relying on purchased ready-to-use media will most likely not be the most cost effective option. An automated media preparation system that delivers high-quality process documentation, process validation and efficient high volume batch operation will probably be more appropriate.
In this exclusive interview with rapidmicrobiology.com, Dr. Lukas Keller, Global Product Manager at INTEGRA, discusses the benefits of having in-house media preparation, what to look for in a system and how INTEGRA can help ensure your laboratory always has a supply of validated, consistently high quality media.
Why make and pour media when you can buy in ready-to-use? In any medium to large laboratory, costs for ready-made plates can easily add up. The limited shelf life can easily lead to product wastage. Moreover, not all laboratories have suitable storage space to meet their media demands which can vary from week to week in terms of volume and media type. Having in-house media preparation reduces the need for storage space and can result in significant cost savings, which increase with throughput.
Secondly, laboratories need to consider possible issues that are not under their control. Occasionally, timely delivery cannot be guaranteed by ready-made plate manufacturers. The conditions of transportation of the plates to the laboratory may also be an issue (e.g. bumpy roads, high temperatures) that impacts on the integrity of the goods. Preparing your own media help you to avoid these issues and automation allows any laboratory to produce consistent, good quality in-house media with full process tracking.
What are the key questions to ask a vendor? In-house media preparation will require two stages: media sterilization followed by the filling of Petri dishes or tubes, which will be carried out by two different systems. An intuitive user interface and a bulletproof design are probably the most important considerations for both systems, as they ensure minimum downtime and maximum productivity. After-sales services provided by the manufacturer is important too, as good customer support will install and service the systems, repair them in a timely fashion and train the operators.
Some key features to look out for in a media sterilizer are:
Safety - are there enough safety systems in place?
Process documentation - will this meet your accreditation requirements?
Speed of the process - how long does each batch take?
Contamination – what measures are in place to reduce medium contamination?
Sterilization - how is it carried out? Will the process be suitable for sensitive formulations so as to not affect the fertility of the medium.
For a media filler, the key features include:
Reliability - how often will it need servicing and is the service engineer readily available?
Automation – is the system truly 'walk-away'?
Bar coding -  can you print batch details on the dish?
Footprint - will it actually fit in the lab space?
Contamination - what measures are in place at the point of filling?
Generally, it is also important to know what size and shape plates can be handled by the instrument, what is the smallest and largest volume in each run, how easy is it to swap from plates to filling test tubes with broth/diluent and how easy is it to clean the filling chamber.
How does the INTEGRA range meet the needs of a laboratory? The two systems offered by INTEGRA are MEDIACLAVE, the media sterilizer, and MEDIAJET, the media filler.
INTEGRA offers direct-sales and after-sales services in key markets worldwide (United States, Germany, France and Switzerland), so we are very close to our customers. In addition, our worldwide network of highly trained service partners guarantee valuable expertise as well as high quality of after-sales support.
Both systems have built-in operation systems that are entirely self-explanatory, as all functions and prompts are explained in plain text. Therefore, they are both designed to be very easy to use.
MEDIACLAVE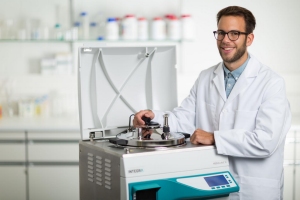 The MEDIACLAVE, media sterilizer is equipped with several electronic and analogue safety systems acting at multiple levels. The internal software monitors temperature and pressure levels throughout the run and if these surpass a certain threshold, the flow heater is automatically shut down and the cooling system activated. The mechanical elements include an overpressure safety valve and burst disc, which release excess pressure if all the other safety systems fail. Of course, the system has lid locks, an automatic indicator of service intervals and tightness can be easily checked for efficient operational safety. These sophisticated safety checks sets the MEDIACLAVE apart from other manufacturers.
Process documentation (i.e. run files) can be automatically stored online through the USB port or printed using the optional feature of a built-in printer. Log files can be stored electronically without extra software via an ethernet connection and will comply to FDA (21 CFR Part 11) and EU (GMP Annex 11) protocols using a digital signature, unlike competitor systems.
The MEDIACLAVE is one of the fastest media sterilizers on the market because of its very efficient cooling system, taking less than one hour for the normal 20 minutes at 121°C run. The water jacket between the media container and the pressure vessel ensures uniform heating, perfect sterilization and reduces chances of contamination. In addition to this, the bi-directional stirring is achieved thanks to the magnetic stirrer, resulting in better and uniform mixing.
Moreover, the state-of-the-art cuvette and decanting nozzle geometry allows for the lowest dead volume in the cuvette.
MEDIAJET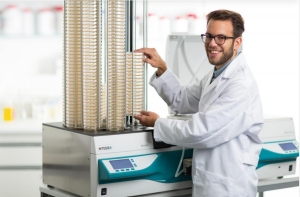 The MEDIAJET media filler has true walk-away automation that makes it the most reliable on the market. MEDIAJET uses a 'gripper' system that holds onto plates to ensure a more stable transfer, instead of a 'tray' system which can slide under the plates and might result in plates crashing down. The system easily handles Petri dishes which vary in shape and diameter.
MEDIAJET is equipped with the fastest rotor-carousel available, filling 900 plates per hour in the standard mode and 1,100 in the turbo set up. The presence of an UV-lamp in the loading area means that plates open and close in a sterile environment, leading to less contamination.
The key aspects that differentiate MEDIAJET from alternative manufacturers are its reliability, ease of use and its filling speed, all with true walk-away and leave operation.
Is it possible to see the MEDICLAVE and MEDIAJET live?
Yes, absolutely! Seeing the systems in action helps to understand how they will optimize your media preparation flow. Follow this link www.integra-biosciences.com/en/media-preparation to arrange for a live demonstration or to request more information about INTEGRA's media preparation systems!
Please note : Any products described on this page are for Research Use Only and not intended for clinical diagnostic procedures unless otherwise stated.
Tags:
Date Published: 25th April 2017
Source article link: View
Related news