19th March 2013 Content supplied by: Interscience
Filter Bags Provide the Best Analyses with INTERSCIENCE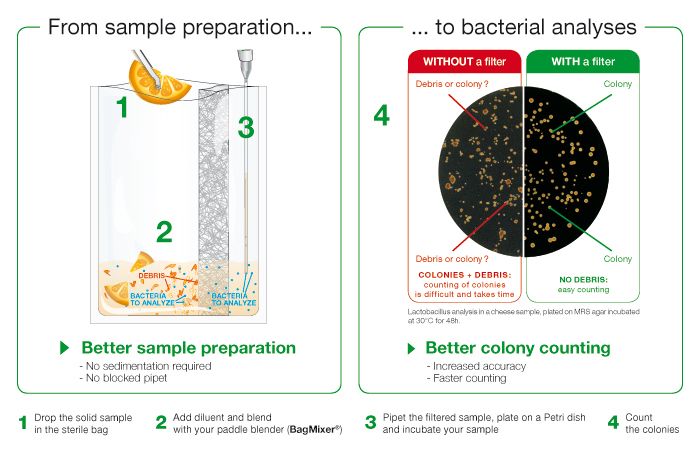 INTERSCIENCE provides a full range of sterile bags for sampling and blending with 22 references. The filtration occurs in the bag during homogenization, thanks to the integrated filter, which also makes it easier to count colonies after incubation because there is no debris. Sterile bags for microbiology are used for the homogenizing and analysis of any solid sample, and are especially adapted for food, medical, veterinary and environmental samples.
WHY ?
1. THE BENEFITS OF HOMOGENIZING IN A STERILE FILTER BAG
Instant filtration occurs during homogenization
Sterile filtration guarantees NO RISK of cross-contamination
No debris on the dish: EASY and enhanced reading of the colonies
2. QUICK AND SAFE ANALYSES TO INCREASE THE LAB'S CAPACITY
Adapted to all samples, from 1 g to 400 g
Adapted to all lab blenders
Precise results and excellent reproducibility
3. HIGH QUALITY PRODUCTION
INTERSCIENCE is the unique manufacturer of both sterile blender bags AND lab blenders.
Sterile and approved for food contact
Certified ISO 9001-2008 Customized manufacturing on demand
Please note : Any products described on this page are for Research Use Only and not intended for clinical diagnostic procedures unless otherwise stated.
Tags:
Date Published: 19th March 2013
Source article link: View