6th June 2017 Content supplied by: Liofilchem s.r.l.
FDA-Cleared Liofilchem MIC Test Strip (MTS™) Telavancin (TLV)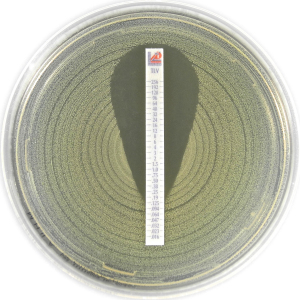 Liofilchem has received clearance from the FDA to market in the United States the Telavancin (TLV) MIC Test Strip (MTS™), a quantitative assay for determining the Minimum Inhibitory Concentration (MIC) of telavancin against Staphylococcus aureus (including methicillin-resistant isolates) and Enterococcus faecalis (vancomycin-susceptible isolates only).
For more technical details on the Telavancin MIC Test Strip IFU: www.liofilchem.net/MTS/FDA
MIC Test Strips (MTS™) are porous strips with special features (International Patent) that are impregnated with a predefined concentration gradient of antibiotic, across 15 two-fold dilutions of a conventional MIC method. On one side of the strip there is a printed MIC scale in μg/mL and a code that identifies the antimicrobial agent.
Telavancin MIC Test Strip 0.016-256 μg/mL
10 strip pack: ref. 920531
30 strip pack: ref. 92053
100 strip pack: ref. 920530
Telavancin is the sixth of a long series of MIC Test Strip items to be approved by the FDA, following recent approval of the Vancomycin, Dalbavancin, Ceftolozane-tazobactam, Meropenem and Ceftazidime strips. In the meantime, the rest of the MIC Test Strip range is available in the United States as research use only devices, while the entire MIC Test Strip product catalog is CE marked and fully available as IVD for clinical diagnostics purposes in Europe and approved in Canada by Health Canada. MIC Test Strip is also registered at the competent Authority in many countries outside Europe as a clinical diagnostic device.
The current MIC Test Strip range comprises antibiotics, antifungals, antimycobacterials, and combined strips for detection of resistance mechanisms (ESBL, MBL, KPC, AmpC and GRD) for over 150 items, each available in three pack formats (10, 30 and 100), for the widest gradient strip range in the international market.
Please note : Any products described on this page are for Research Use Only and not intended for clinical diagnostic procedures unless otherwise stated.
Tags:
Date Published: 6th June 2017
Source article link: View
Related news