1st August 2017 Content supplied by: Cherwell Laboratories Ltd
Cherwell Publishes Cleanroom Decontamination Guide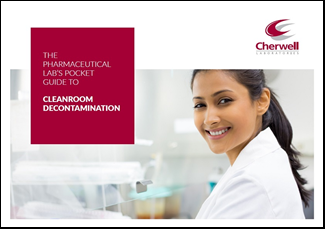 Cherwell Laboratories has published a booklet titled, "The Pharmaceutical Lab's Pocket Guide to Cleanroom Decontamination."
The guide, which is available to download from Cherwell's website, provides cleanroom operators and laboratory personnel with an overview of cleanroom decontamination technologies. The aim of the guide is to help the operator understand the complex protocols and heavily regulated procedures associated with pharmaceutical cleanrooms. The guide includes an overview of cleanroom disinfectants; decontamination techniques; decontamination devices and systems that deliver quicker, safer cleanroom decontamination.
The eBook starts with the background to cleanroom standards and regulations, including reference to ISO-14644 parts 1 and 2, as well as the EU Biocidal Products Regulations which are of great importance when choosing a biocide. Also covered is a summary of the different biocidal agents available, the different techniques you can employ to disinfect a cleanroom and points to consider when choosing the appropriate decontamination solution for your cleanroom.
Andrew Ramage, Cherwell Laboratories' Microbiology Product Specialist comments: "This booklet will arm the user with clear and concise information to better understand why and how best to decontaminate a cleanroom. It will be especially useful for inexperienced and trainee operators trying to get to grips with working in that type of environment, and also act as a handy reminder to the basics for more experienced operators."
The new cleanroom decontamination educational guide can be downloaded at: resources.cherwell-labs.co.uk.
Tags:
Date Published: 1st August 2017
Source article link: View
Related news