22nd April 2013 Content supplied by:
Cherwell Accessory Range for Cleanroom Environmental Monitoring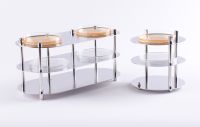 Cherwell Laboratories have introduced a range of stainless steel accessories for use within cleanroom environmental monitoring programmes.
Cherwell initially developed its range of settle plate stands to meet the specific requirements of environmental monitoring in a cleanroom environment, following an approach by a pharmaceutical manufacturer. Available to hold either one or two plates, the stainless steel stands were designed to hold settle plates at a standard 115mm above a surface, however alternative heights can be manufactured to meet specific requirements.
To complement its plate stands, Cherwell also manufactures stainless steel contact plate and petri dish carriers to aid handling and transportation around the laboratory. Holding up to 20 plates, the plate carriers are constructed with no fixings or difficult corners to facilitate cleaning and autoclaving. For additional practicality, the units feature a swinging handle for transportation and rubber feet to ensure stability when the unit is put down. Andrew Barrow, Sales Manager, Cherwell Laboratories commented, "We pride ourselves on our willingness and expertise to work with customers to provide an ideal solution to meet their individual needs". He added "Our stainless steel plate stands and carriers were designed to meet the specifications of environmental monitoring within a cleanroom environment, fulfilling our customer's specific requirement."
Tags:
Date Published: 22nd April 2013
Related news