14th January 2013 Content supplied by: Neogen Europe Limited
BioLumix has Over 400 Rapid Microbiology Systems in use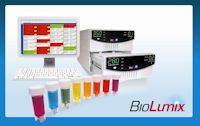 Automate Microbiology Testing with BioLumix Rapid System.
BioLumix dramatically improves turn-around time for customers using its Validated, Automated Microbiology System.
The BioLumix System is designed to accelerate product release with a simplified, automated approach. This yields fast, accurate, real-time results while reducing costs. No more waiting days for completed assays. The system brings automated microbiology testing in house, with most assay results achieved overnight. It is simple enough to be operated by a non-microbiologist, providing accurate data of raw materials, environmental samples and finished products.
Over 400 BioLumix Rapid Microbiology Systems are in use for testing raw materials, finished products, including foods, dairy products, powders, oils, enzymes, botanical material, tablets, capsules, and liquids easily and without product interference. With automated monitoring of ready-to-use assay vials and automated data processing and archiving (paperless), the microbiologist's job got a lot easier with the same accurate results in less than half the time!
TIME IS MONEY. Integrate the BioLumix System and begin to un-lock the QC bottleneck. With BioLumix you can apply "multiple days saved" and impact real profit drivers, such as:
Cost savings as a result of early detection
Reduced time for product release
Lower headcount and/or less expensive staff costs
Lower re-processing fees
Reduction in plant downtime
Increased production yields
Reduced raw materials, in-process, and finished products inventory holding costs
Reduction in back orders
Increased production flexibility
Potential improvement to cash flow and receivables as customer shipments are sent sooner
Better protection of company image. . . and more.
Tags:
Date Published: 14th January 2013