Upcoming Microbiology Events : pharmaceutical , 2021-01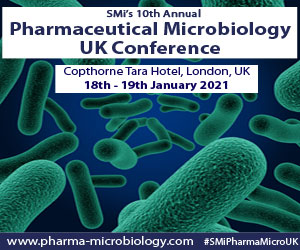 : 18 Jan 2021 - 19 Jan 2021
: London, United Kingdom
Sector: Pharmaceutical Type: Conference - In person
Summary : SMi's flagship microbiology conference is celebrating its 10 year anniversary. The conference will bring together industry experts to explore agile contamination control strategies that tackle the most pressing challenges and push innovation in the world of pharmaceutical microbiology. more...
: 20 Jan 2021 - 22 Jan 2021
: Chicago, United States
Sector: Pharmaceutical, Water Type: Conference - Virtual
Summary : This important annual event focuses on emerging issues related to the safety of building water systems. more...