Thermo Scientific Samco Transfer Pipettes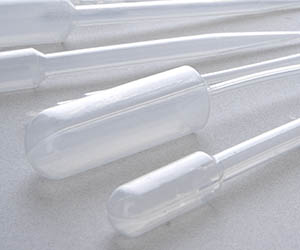 Principle: Sample preparation and plating out
Automation: NO
Approvals: ISO 15485:2005 certified
QSR (cGMP)
ISO 9001:2000
ISO 13485 registered
Suitability: Suitable for labs needing to dispense accurate volumes of liquids quickly and accurately
Capital equipment required: NO
Description:
Thermo Scientific™ Samco™ transfer pipettes have provided industry-leading performance and reliability for over 40 years.
Transfer pipettes are plastic and offered in both graduated and ungraduated formats with integral bulbs or accessory bulbs for transferring liquids.
Key Points:
Design:
Grips easily with latex gloves—no slipping
Clear graduated markings
Fine-tip accuracy
Packaging materials greatly reduce airborne mold spores from entering testing areas
Repeatable results:
Inert, nontoxic polyethylene
Manufactured without mold-release agents that could interfere with test results
Reliability:
State-of-the-art tool room produces the largest variety of transfer pipettes in the industry
Precision-cut tips deliver a uniform drop size
Controlled processes produce a uniform bulb with uncompromised integrity
Please note : Any products described on this page are for Research Use Only and not intended for clinical diagnostic procedures unless otherwise stated.
Areas:
Clinical

Cosmetic/Personal Care

Food & Beverage

Laboratory Equipment

Pharmaceutical

Veterinary

Water