Small Footprint Anaerobic and Microaerophilic Workstations from Baker Ruskinn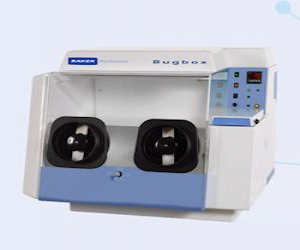 Manufacturer: Baker Ruskinn
Principle: Mixes gases from 2 bottled gas cylinders to create anaerobic or microaerophilic conditions
Automation: NA
Suitability: Anaerobic and microaerophilic incubation
Capital equipment required: Yes
Description:
The Ruskinn Bugbox range of anaerobic workstations are designed specifically to help microbiologists cope with rising workloads and provide the best primary isolation rates. Choose from Bugbox (Precise, stable anaerobic atmosphere in a compact footprint), Bugbox Plus (with larger interlock, 80% greater plate capacity than Bugbox) and Bugbox M (the world's smallest microaerophilic workstation).
Key Points:
Read plates easily without exposing them to oxygen with lower cost per plate vs jars
Quick and easy access via the Ezee Sleeve™ gloveless port system
Energy-saving lighting provides perfect illumination
Easy to use, fitting into even the smallest laboratory spaces.
Adjustable temperature and humidity provides a precisely controlled environment optimised for cell growth, with no dry spots.
Areas:
Food & Beverage

Laboratory Equipment

Other