Emtek - P100 Air Sampler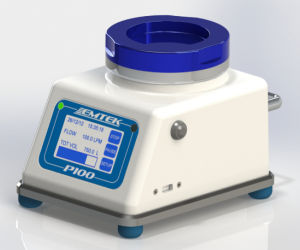 Principle: The P100 Microbial Air Sampler offers two CPU controlled sampling rates, 28.3 LPM (1 CFM), and 100 LPM, to allow for continuous monitoring of critical processes
Automation: No
Capital equipment required: No
Description:
The P100 Microbial Air Sampler allows for continuous monitoring of critical processes or quick cubic meter "grab samples" to be taken. The P100 offers two CPU controlled sampling rates, 28.3 LPM (1 CFM), and 100 LPM
The sampled air volume is HEPA filtered prior to being exhausted at the unit, or remotely through optional attachments. The unit may be operated directly via its user-friendly LCD/Touch Screen interface, or through your Network (LAN) via PC based software.
The P100 allows for capture and storage of key parameters from 500 sample runs, offering unique CFR Part 11 regulatory compliant data control with data run review/deletion capabilities controlled by a system administrator. Data may be output/viewed through on optional custom label printer, USB stick, or via optional PC based software.
Its enclosure of Kydex® with Microban® which is an anti-microbial agent, that minimises the transfer of viable contaminants.
The P100 also comes with an optional compressed gas sampling device which allows for sampling of compressed air and gas systems
Key Points:
Two Controlled Sample Rates of 28.3 and 100 LPM
Long Battery Life: >12 Hours (at 28.3 LPM) for continuous monitoring
Dimensions: 7.5" L x 5.5" W x 6" H / Weight: <5.4 Lbs
LCD View Screen w/Touch Screen Interface
Inlet Cover: 300 Holes (appropriately sized for 28.3 or 100 LPM)
Enclosure: Kydex® with Microban® (anti-microbial protection)
Inlet Cover/Base & Enclosure Base/Handle: Anodized Aluminum
Infrared Remote Control (start/stop/pause/resume)
Adjustable Test Plate/Media Stage (set inlet to test plate gap)
HEPA Filtered Exhaust
Can be used for Compressed Gas Sampling
Please note : Any products described on this page are for Research Use Only and not intended for clinical diagnostic procedures unless otherwise stated.
Areas:
Clinical

Food & Beverage

Laboratory Equipment

Pharmaceutical