NG-Test®CARBA 5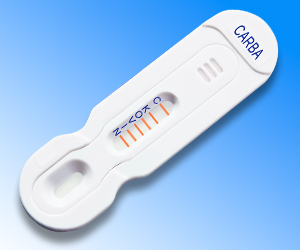 Principle: For the detection of carbapenemases
Automation: NO
Suitability: Antimicrobial resistance
Capital equipment required: NO
Description:
NG-Test® CARBA 5 is the only rapid, multiplex, phenotypic test capable of detecting KPC, OXA-48-like, VIM, IMP, and NDM carbapenemases produced by Enterobacterales and P. aeruginosa.
Key Points:
Cost effective - Per test, NG-Test® CARBA 5 is more economical than molecular methods.
Accurate - NG-Test® CARBA 5, unlike molecular methods, detects the gene expression which can be crucial to aiding therapeutic decisions.
Please note : Any products described on this page are for Research Use Only and not intended for clinical diagnostic procedures unless otherwise stated.