16th March 2021 Content supplied by: Medical Wire
MWE's Inactivation Media Enables Safe Transport & Molecular Testing of Bacteria & Viruses 
Over the last 2 months, MWE has upscaled manufacturing volume to ensure reliable supply of its inactivation media, Sigma MM™ as a priority.
Sigma MM™ inactivation media was developed to safely inactivate bacteria and viruses and preserve and stabilize the released RNA/DNA for molecular testing and analysis, working accurately across diagnostic platforms.
The product is fully compatible with Roche Liat POC® and GeneXpert PCR® diagnostic systems amongst others, with no interference to the chemistry and is widely used across the UK and other countries.
Sigma MM™ has been validated both internally and by professional bodies. 100% of Gram-positive and Gram-negative bacteria (Staphylococcus aureus, Streptococcus agalactiae, Escherichia coli, Candida albicans, Pseudomonas aeruginosa, Salmonella typhimurium) were rendered inactive/killed within 5-10 seconds.  
Public Health England (UK) has confirmed that Sigma MM™ provides effective inactivation of SARS CoV-2 and the Luton and Dunstable University Hospital proved that Sigma MM ™ was also completely effective at killing MRSA and CRE at all concentrations tested.
James Cook Hospital tested Sigma MM™ with RSV (nose and throat swabs), Influenza virus (nose and throat swabs), Enterovirus (rectal swabs containing fecal matter and mouth swabs), HSV (lip swabs), and Adenovirus (eye swab) over an extended timeframe and resulted in positive and consistent CT values over 10 days, with no degradation of nucleic acid, proving Sigma MM™ is ideal for long transportation and storage.
MWE ∑-MM™ The Product:
Inactivation of highly infectious pathogens rendering specimens safe for transport and molecular analysis.  ∑-MM™ solution rapidly kills microorganisms, including bacteria, mycobacteria, and viruses.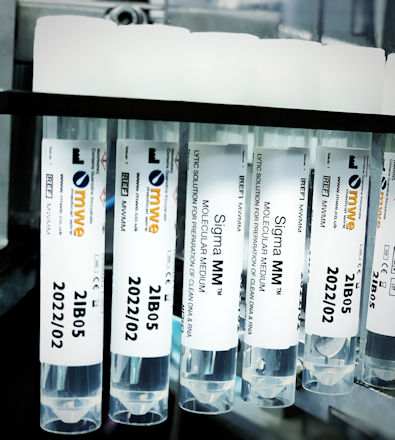 Suitable for highly infectious clinical specimens
DNases and RNases rapidly inactivated
DNA and RNA preserved for molecular testing
Can use with any swab or liquid specimen
Safe and stable for transport at ambient temperature
Suitable for all microorganisms
Effective for viruses, including Coronavirus
Effective for bacteria including mycobacteria
For more information click here.
∑-MM™
Product code: MWMM
Pack Size: 50 tubes
Please note : Any products described on this page are for Research Use Only and not intended for clinical diagnostic procedures unless otherwise stated.
Tags:
Date Published: 16th March 2021
Source article link: View