MEDIACLAVE and MEDIAJET – Media Preparation System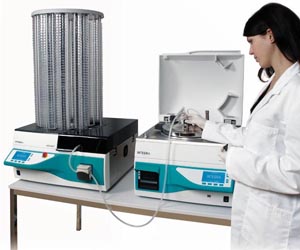 Manufacturer: INTEGRA Biosciences AG
Automation: Yes
Suitability: Microbiology media preparation, Petri dish filling
Capital equipment required: Yes
Description:
MEDIACLAVE allows the rapid sterilization of up to 30 litres culture medium. Precise control of process parameters guarantees media of constant high quality. The intuitive multilingual user interface and the simple programming makes operation very easy. Connected to the MEDIAJET, the media can be dispensed automatically in up to 540 Petri dishes at the touch of a button.
Key Points:
Flow heater system for fast and gentle media preparation.
Powerful bidirectional stirrer to guarantee homogeneous media.
Integrated web server for online documentation of the process.
Electronically signed log files according to FDA and EU guidelines.
Controlled dish guidance for reliable walk-away operation
Processing of various dish sizes (Ø 90, 60 or 35 mm, two compartment) and dish heights.
Shaker mode for pour plates applications.