Easy Dry Ready-to-Rehydrate Culture Media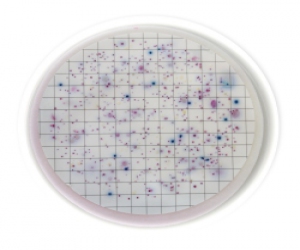 Manufacturer: Liofilchem s.r.l.
Principle: Dry media in pads is rehydrated by sample and incubated
Automation: No
Approvals: Liofilchem is ISO 9001 and ISO 13485 certified.
Suitability: Suitable for small to medium food microbiology laboratories
Capital equipment required: No
Description:
The Liofilchem® Easy Dry are ready-to-use, sterile, individually plated dried-up culture media in pads, available in a variety of formulations for microbiological testing of beverage and food.
Key Points:
Ready-to-use: no labour and resources for the preparation from the dehydrated media (sterilization, controls, cleaning, etc.).
Room temperature storage, high versatility.
24 months shelf life.
Inoculation: remove lid, add 2.0 – 2.5 mL of sterile and demineralized (or pure) water, proceed with the filter as by standardized membrane filtration method.
Incubate according to the proper temperature and time conditions. Interpret and count the colonies.