26th February 2017 Content supplied by: Interscience
Why Choose the Spiral® Method?

The Spiral® method enables the automatic and standardized plating of a sample - allowing 4 dilution series on one Petri dish. The sample is plated in a form of an increasingly dilute spiral (from the center to the periphery). The volume is calibrated and known at every point of the Petri dish.
Why choose the Spiral method? The Spiral® method increases lab throughput; no intermediary dilutions; standardized plating technique.
From 100 to 1 x 107 CFU/mL on one Petri dish
Up to 75% savings on consummables
Fast: Each plate takes no more than 8 seconds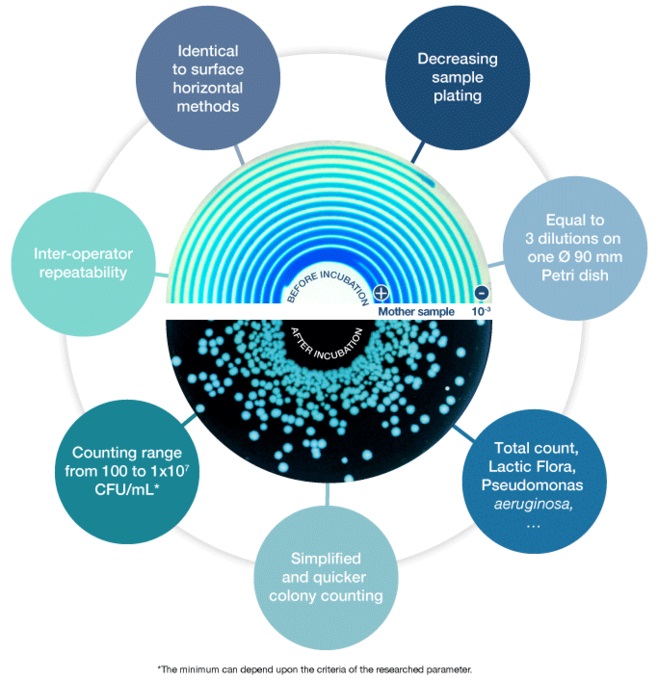 How are the colonies counted? The sample is deposited on the surface of a rotating Petri dish by a precise measuring micro-pump, according to a logarithmically decreasing Archimedes spiral from the center of the dish to its periphery. Depending on the setting, the plating corresponds to 3 or 4 dilutions compared to the traditional method. The volume is calibrated and known at every point of the Petri dish. After incubation, the colonies appear as a spiral trace on the dish.
The Spiral method: 25 years of experience In 1973, Dr Ed. Campbell, researcher at the FDA (Food & Drug Administration), designed the Spiral® method to automate the routine work of bacterial enumeration. He collaborated with François Jalenques, founder of INTERSCIENCE, and in 1992 patented an updated method.
Since then the automatic Spiral® platers have been a reference for applications in food microbiology, medical bacteriology, research on food preservatives in compliance with the XP V08-034, ISO 7218, ISO 4833-2, ISO 15189, FDA-BAM and AOAC standards.
INTERSCIENCE has proudly launched the easySpiral® and easySpiral Pro®, Spiral® platers which have become references since then in labs worldwide.
INTERSCIENCE Automatic Spiral Platers Range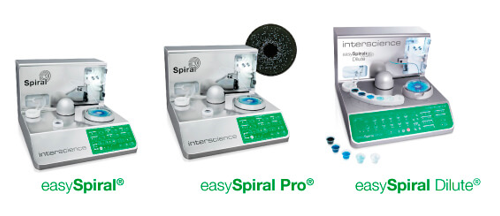 "Users can now experience efficiency and high-performance solution for automatic Spiral plating. easySpiral is the 3rd generation of Spiral platers, with 30 years of experience for incredible savings, reproducible results and full traceability in compliance with ISO 4833-2, ISO 7218, AFNOR V08-100 standards, patented and working around the world!" says Jules Jalenques, co-CEO of INTERSCIENCE.
Watch video showing the easySpiral Pro®, the world's fastest spiral plater in action.
Please note : Any products described on this page are for Research Use Only and not intended for clinical diagnostic procedures unless otherwise stated.
Tags:
Date Published: 26th February 2017
Source article link: View
Related news